Retired Teacher and Her Daughter Detained in Liaoning Province (Photo)
(Clearwisdom.net) Ms. Yang Shuqing, 68, is a retired teacher from the No. 38 Middle School in Shenyang City, Liaoning Province. She and her daughter, Ms. Li Fangfang, were illegally arrested by officers from Shisiwei Road Police Station in Heping District before the Olympics, because of their belief in Truthfulness-Compassion-Forbearance. They have been detained for over four months, with Ms. Yang's husband left at home without any care.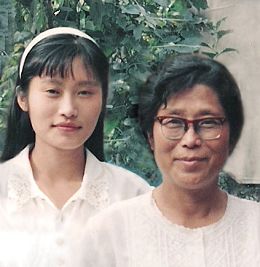 Ms. Yang Shuqing and her daughter Ms. Li Fangfang
Ms. Yang has been an English teacher her whole adult life, and has taught in Middle Schools Number 5, 105, and 38. She is very patient and careful, and her way of teaching is very popular with her students. Ms. Yang has received the "Excellent Teacher" award. However, because she worked so hard, she suffered from many chronic diseases. She frequently suffered from severe backache and leg pain. After she started practicing Falun Gong in 1996, Ms. Yang's recovery was miraculous. She had not been on any medication for many years.
Ms. Yang's daughter, Ms. Li Fangfang, graduated from the Department of Foreign Language of Shenyang University. She was previously an operational manager for the Northeast region of McDonald's. She began to practice Falun Gong in 2004, and soon recovered from a severe stomach disease. She became warm-hearted and kind. Both mother and daughter often gave money to help friends who were in financial trouble. People who know them all say that they are warm-hearted, unselfish people.
Before the 2008 Summer Olympics, police officers arrested Falun Gong practitioners on a large scale in Shenyang City. At 2:30 p.m. on June 24, 2008, officers from the Shisiwei Road Station drove a van to Ms. Yang's home. They arrested Ms. Yang, her husband and daughter, and took them to the Shisiwei Road Station. Officers ransacked their home and took books, a laptop, a printer, cell phones, and a good quality gold pen along with other personal property. Later, Ms. Yang's husband was released. Ms. Yang and her daughter were detained at the Shenyang City Detention Center at Zaohua District.
Ms. Yang and Ms. Li's cases were reported to the Procuratorate, but a hearing was rejected. Officers were told that the case needed further investigation. Mother and daughter have been in the detention center in Shenyang for over four months. Ms. Yang's husband, close to seventy years old, was left alone at home without any care.
Related Personnel and Agencies:
Shisiwei Road Police Station, Heping District, Shenyang City Police Department: 86-24-23875271
Address: No 11 Gongxue Lane, Shisiwei Road, Heping District, Shenyang City, Zip code 110003
Director: Gao Jun; Deputy director: Zhang Qiang
November 8, 2008