Australia: "We Do Not Welcome the Murderer, Zhou Yongkang" (Photos)
November 12, 2008 | By Minghui reporter Wenyun
(Clearwisdom.net) On November 8, Zhou Yongkang, Head of the 610 Office and Secretary of the Political and Judicial Committee of the Chinese Communist Party (CCP), arrived in Canberra, Australia. Local Falun Gong practitioners were assembled to protest his visit.
Protesting in front of the Chinese Embassy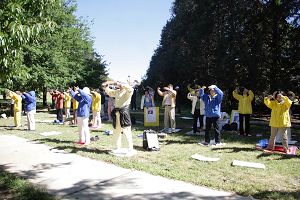 Protesting in front of the Chinese Embassy
Standing along Zhou's route from the airport to the Hyatt Hotel and in front of the Chinese Embassy, practitioners held banners that read "Falun Dafa Is Good," "Bring Zhou to Justice," etc.
Mr. Fan Jiazhong, representative of the Falun Dafa Association in Australia, pointed out, "We don't welcome this murderer to our country. People should bring Zhou to justice instead of welcoming him anywhere. It is a shame that the Australian Government invited him. Zhou is one of the four individuals primarily responsible for the persecution of Falun Gong. He has been directly involved in torture resulting in the deaths and disabling of many Falun Gong practitioners. We ask the Australian Government to deport him. On the seventh of November, we submitted documents about the lawsuits against Zhou to the Australian Minister of Justice. We hope the Australian government will take action and deport Zhou."
Falun Gong practitioners held a 24-hour-long protest. Many Chinese tourists saw the protest. They read the truth-clarifying materials and listened to practitioners. On the morning of the ninth, a group of bicyclers, about 1000 of them, passed by the protest. They saw the banners and display boards and waved to the practitioners in support.