Daughter Died Due to Persecution, Mother Sentenced to Forced Labor Again (Photo)
(Clearwisdom.net) Around 10:00 a.m. on August 21, 2008, several officers from the Jiadong Police Station, Jiamusi City, Heilongjiang Province arrested fifty-eight-year-old practitioner Ms. Chen Xiuling. Then they ransacked Ms. Chen's home and seized her new TV, DVD player, more than a thousand yuan in cash, her Residence Permit booklet, identification card, wage card, bank cards, bicycle keys, and other important items.
Ms. Chen Xiuling was later sentenced to one and a half years of forced labor. She is now imprisoned at the Jiamusi City Forced Labor Camp. This is Ms. Chen's third time in a forced labor camp. In recent years, even when she is not in a forced labor camp, members of the Chinese Communist Party (CCP) frequently harass her. Ms. Chen has been harassed ever since the CCP's persecution of Falun Gong began.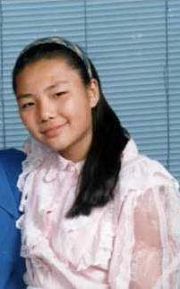 Miss Chen Ying - Victim of Persecution
Back in 1999, Miss Chen Ying, Ms. Chen's daughter, became the first victim to die from the persecution in Jiamusi City. Miss Chen Ying was the freshman class vice-chairman in the high school section of the Shuren Middle School, Jiamusi City. Her conduct and academic achievement were excellent. She loved calligraphy and received many calligraphy honors. She won the first prize in calligraphy on Youth Day, May 4th, 1999. Then on July 19, 1999, her school recognized her with the Good Student Award. On July 22, 1999, the third day after the CCP began the persecution of Falun Gong practitioners, Miss Chen Ying went to the State Council Appeal Office to appeal for the right to practice Falun Gong. She was subsequently arrested. On August 16, 1999, while in custody, she was taken back to Jiamusi City by train. On the train, the police beat her, threatened her, insulted her, handcuffed her to the baggage rack. She was given only half of a bun and half a bottle of water. When she was allowed to move around, for example to use the restroom, the officers followed her and would not allow her any privacy. She had to leave the door open in the restroom. Miss Chen Ying would not endure any further humiliation, so when she finished using the restroom, she shut the bathroom door. Then, at 2:34 p.m. Miss Chen jumped from the train at the 280 kilometer mark of the Beijing-Qinhuangdao Line. Political commissar Li (first name unknown) from the Jiamusi City Police Department, the head of the No. 2 train crew and another person took Miss Chen to the Fengrun District Hospital, located in Tangshan City, Hebei Province. Around 6:00 p.m., while Miss Chen was still in coma, commissar Li said, "Remove the oxygen - if looks like (she) won't survive." They took her straight to the Fengrun Crematory that same night. On August 19, 1999, the CCTV news reported that Miss Chen Ying from Shuren Middle School, Jiamusi City, Heilongjiang Province, "who had been absent-minded and had tried to commit suicide many times, died after jumping from a train when her family was distracted."
Not too long after her daughter died, Ms. Chen Xiuling was detained at the Jiamusi City Detention Center in March, 2000. On March 17, 2001, Ms. Chen was imprisoned in the Jiamusi City Forced Labor Camp. She was released on January 25, 2002.
On March 12, 2003, police from the Jiadong Police Station searched Ms. Chen's home and detained her at the detention center for 22 days. On April 2, 2003, Ms. Chen was taken to the Jiamusi Forced Labor Camp for three years of forced labor. Ms. Chen was subjected to brainwashing immediately after she was imprisoned at the forced labor camp. She suffered the painful torture known as "back handcuff." She was forced to sit on the ceramic tile floor, with her hands handcuffed behind her back and attached to a bed; and, she was not allowed to use restroom. On July 22, 2003, Ms. Chen suffered "back handcuff" again because she refused to denounce Falun Gong in writing. During her imprisonment, her weight dropped from 130 lbs to below 110 lbs.
Since May 2008, police from the Jiadong Police Station, Dongfeng Police Department, Jiamusi City have arrested many practitioners in addition to Ms. Chen Xiuling. These practitioners include Mr. Li Ronghong, Ms. Cai Chunmei, Ms. Wu Xiujie, and Mr. Wu Shuangli.
Related article: http://www.clearwisdom.net/emh/articles/2001/1/9/5327.html
September 23, 2008