(Clearwisdom.net) Seventy-year-old Dafa practitioner Ms. Li Mengshu from Jianyang City in Sichuan Province was sentenced to three and a half years in prison for telling people about the persecution of Falun Gong. She was inhumanely tortured in the Longquanyi Women's Prison in Chengdu City. She is currently in critical condition. Her family members are strongly demanding that she be released unconditionally. The Chinese Communist Party (CCP) officials however, have totally ignored them.
(Clearwisdom.net) Ms. Wang Yanhong was from Jieguan Township in Anlu City in Hubei Province. She was beaten to death in the First Detention Center in Guangshui for practicing Falun Gong. She was 46. Those around her lost a good family member, a guardian who upheld justice and kindness, and an ambassador who spread the blessings of Dafa.
(Clearwisdom.net)
Ms. Zhou Shanhui, 61, is a farmer from Xiangshui Village, Junyue Town, Pengzhou City. Ms. Zhou used to be weak, and she had many illnesses including gastritis, rheumatoid arthritis, bursitis and hemorrhoids. She was suffering from severe edema and had gone to many places looking for treatment to no avail. She was to the point of feeling that the only option left was to wait to die, when one night in January 1999, she had a dream in which a middle-aged man told her that if she started practicing Falun Dafa, all of her illnesses would disappear within a week. The next day, she managed to get to a practice site and began practicing Falun Dafa. After a week of practice, her illnesses were virtually cured. Ms. Zhou felt the greatness of Dafa and often said that Master Li had given her a second chance at life.
~ Accounts of Persecution ~
~ Solemn Declarations ~
~ Other Community Events ~
~ Rallies & Protests ~
~ Other Community Events ~
~ People in China Awaken to the Truth ~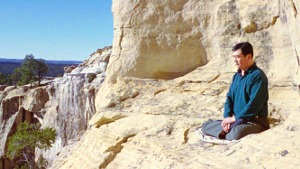 Master Li quietly watching the world from amidst the mountains after leaving New York following July 20th, 1999. (Published January 19, 2000)