Germany: Falun Gong Practitioners Call for an End to the Persecution at the Frankfurt Book Exhibition (Photos)
October 29, 2008 | By a practitioner from Germany
(Clearwisdom.net) On October 18, 2008, Falun Gong practitioners held an information day in front of the Exhibition Centre in Frankfurt. They protested the Chinese Communist regime's persecution of Falun Gong and called on the international community to help stop the persecution. Thousands of people who came to attend the renowned Frankfurt Book Exhibition saw their banners against the persecution. Many people from different countries showed their concern about human rights abuses in China and signed the petition calling for an end to the persecution.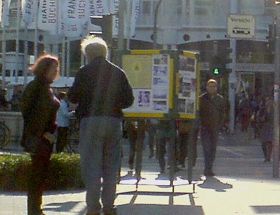 Falun Gong practitioners hold information day.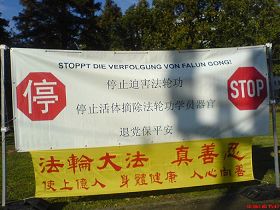 Banners displayed beside the stand.
Between the Falun Gong practitioners' stand and the Exhibition Centre lies the passageway for the tramcar. One driver passed the site many times during the day. When he stopped for passengers, he not only lowered the windows to watch practitioners demonstrating the exercises, he also got off the tramcar to get information from practitioners. He said: "The Falun Gong exercises look so beautiful." When he had to leave to drive the tramcar, he waved goodbye to practitioners.
A local Chinese lady talked to practitioners about her confusion about Falun Gong. She talked to practitioners for a long while and took away Falun Gong materials to read later.
When a practitioner gave a leaflet to an Asian-looking lady, she said "thank you" in Chinese, so the practitioner gave her another Chinese leaflet. The lady happily accepted and said with a smile: "It is fine in Chinese or German. Thanks."
A Chinese gentleman was taking his little daughter to see the Book Exhibition. A Western practitioner gave them a leaflet. The little girl grabbed the leaflet from her father and read out very loudly: "Truthfulness, Compassion, Forbearance! Falun Dafa is good!"