Taiwan: Spreading the Fa at the Fish Festival in Kaohsiung (Photos)
October 24, 2008 | By a practitioner from Taiwan
(Clearwisdom.net) The annual Fish Festival in Mituo Town, Kaohsiung, was held on October 19, 2008. The Divine Land Marching Band, Tianwei Tang Drum Team, a waist drum team, and a celestial maiden dancing team, all consisting of Falun Gong practitioners, were invited to perform in the parade and on the stage.
Falun Gong practitioners have attended this festival every year for eight years, ever since 2001. They demonstrated the beauty of Falun Dafa and exposed the persecution to the local citizens.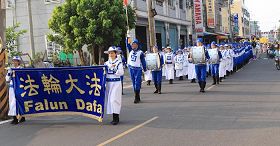 The Divine Land Marching Band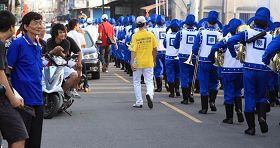 The band
Distributing truth-clarifying materials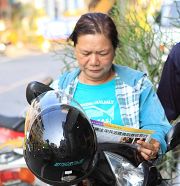 Reading truth-clarifying flyers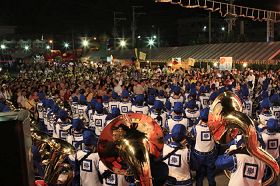 The band performs on stage
Mayor Yang issues an award to the band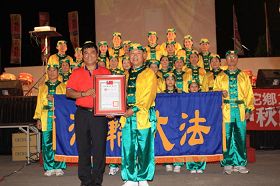 The mayor issues an award to Tianwei Drum Team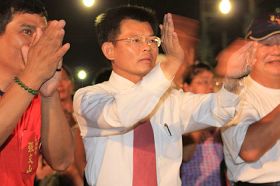 Mayor Yang and Mayor Zhang applaud the band
The Divine Land Marching Band performed at this festival last year. The mayor and local citizens liked their performance so much that this year they invited the band again. Many people took photos of the band. At night, the Tianwei Drum Team was invited to perform three songs on the stage, and then the Divine Land Marching Band, consisting of 200 members, performed six songs. The mayors of Mituo Town and Kaohsiung County watched the performances.
Mr. Yang Chiuhsing, the mayor of Kaohsiung County, said, "Falun Gong is a group that touches my heart the most. The teachings of Falun Gong improve one's body and mind and have a positive impact on our society. I respect Falun Gong. Falun Gong is Chinese people's hope."
Mr. Zhang Wenshan, the mayor of Mituo Town, said, "I thank the drum team, the band, and the dancing team for their excellent, vibrant, and energetic performances. Falun Gong has become deeply rooted in Taiwanese society."