Epoch Times: NTD TV's Global Han Couture Competition a Stunner (Photos)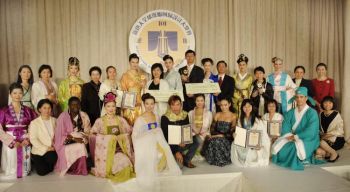 WINNERS: Designers pose with their winning designs at the close of NTDTV's 2008 Han Couture competition at the Prince George Ballroom on October 19 in Manhattan. (Edward Dai/The Epoch Times)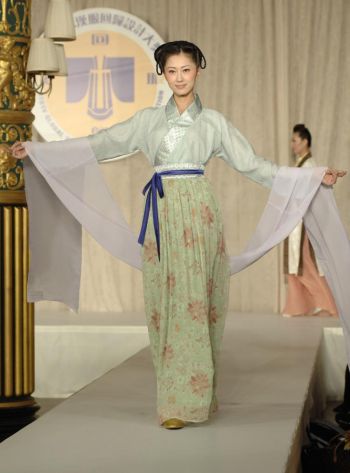 GOLD MEDAL WINNER: "Memory of Friendship" by Elsie He won the gold medal for casual wear (left) at New Tang Dynasty's 2008 Han Couture competition that was held in Prince George Ballroom in Manhattan on October 19. (Edward Dai/The Epoch Times)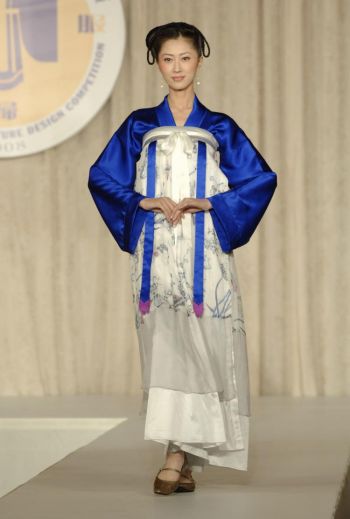 GOLD MEDAL WINNER: "Moments" by Zhaoqing Wang won the gold medal for the formal wear (right) of New Tang Dynasty's 2008 Han Couture competition that was held in Prince George Ballroom in Manhattan on October 19. (Edward Dai/The Epoch Times)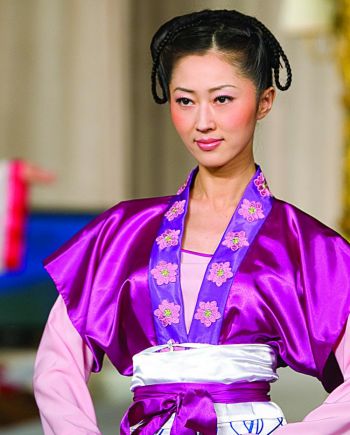 BRONZE MEDAL WINNER: "Tang Lady" by Minghua Cheng won the bronze medal for the casual wear section of the Han Couture competition. (Seth Holehouse/The Epoch Times)
NEW YORK--Silk painted with lotuses, long trailing sashes, and royal brocade were some of the fine details on display at the first Global Han Couture Design Competition held at Manhattan's Prince George Ballroom on Sunday, Oct. 18.

The competition was part of a series of competitions held by New Tang Dynasty Television this year, including piano, violin, traditional Chinese dance, martial arts, and voice.

More even-paced than your average fashion show, several hours of eye-popping designs from over 50 contestants paraded down the catwalk. The designs ranged from familiar styles seen in traditional Chinese paintings--simple lines, broad panels and airy fabrics--to ones resembling those worn by characters in martial arts comic books.

The competition's guidelines were to "borrow the patterns in clothing of the Tang, Song, and Ming dynasties...to create contemporary garments," leaving the door wide open for a variety of styles and inspirations. But because the Western-Eastern combinations tended not to work, judges reverted to authenticity as their main judging criteria.
"Our selection process is designed this way because we want to use this to help guide the development of Han fashion down the line," said judge Amy Li, who is an award-winning fashion designer trained in China. "We will be holding this competition in the future, we would like to see, in Chinese culture we have 5,000 years of fashion so we feel it's already very rich and there's a lot to draw upon already and we wanted to see a little bit more of that. There were some other pieces that were not as Asian and we felt that, having incorporated the western elements, even though it was nice in some cases, that it somehow doesn't match, so it detracted from the overall effect."

Each contestant was allowed to submit several pieces in two categories: casual wear and formal wear. In addition to a trophy and certificates of awards, $10,000 cash prizes were rewarded to gold winners, $5,000 to silver winners, and $2,000 USD to bronze winners.

Liqing Chen from Taiwan, whose pieces featured scooping sleeves and shapes that virtually leaped out from a painting, won silver in the casual division.

"Ancient Chinese fashion was very elegant, simple yet bold," Chen said. "Mine was not very fancy but you don't need a lot with Han couture to make it beautiful."

Amy Li commented on the pieces that won gold in the formal wear division. Its theme was "Moments." "The evening wear gold winner, the theme was 'moment' and we felt that it captured a moment in time of traditional Chinese couture," Li said. "It was again very beautiful and at the same time very authentic."

Some members of the fashion industry were in the audience. Sandi Grant, a New York fashion show producer, found the show impressive.
"The different colors, I loved the colors, the sequins, the embroidery, done stitch by stitch, they're geniuses," she said.

Lavera Wright, a former model and fashion consultant, now trains young models and holds fashion shows for upcoming New York designers. "It's different from regular fashion shows," Wright said. "The models took the time to pause, they really wore those gowns - they didn't just run across the stage. They were elegant and graceful. That's the way I am and how I teach my girls."
5,000 Years of Fashion

The Han clothing is designed based on an old saying, "being one with heaven and man." The couture reflects on people's respect and faith in gods at the time.

Clothes initially appeared in China around 2000 BCE, which ended the prehistoric state of people covering themselves with animal skins. Since then, people learned to observe their surroundings and incorporate those natural elements into their clothing. For instance, the sky was black; therefore their top clothing was black in color, as it should symbolize heaven. The earth was yellow, as the bottom clothing was dyed yellow in resemblance of the earth. A sash tied around the waist symbolized the balance man must strike while living between heaven and earth. The Chinese people expressed their faith in heaven and earth clearly in such manner through their intricate attire.

The ancient Chinese believed that gods would unveil the truth to them when they had a kind heart, where human beings could then attain wisdom and a prosperous life.
Source http://en.epochtimes.com/n2/arts-entertainment/ntdtv-han-couture-chinese-fashion-5860.html