Taiwan: Principal Promotes Truth-Compassion-Forbearance and Receives "Special Contribution" Award (Photo)
October 18, 2008 | By Lin Fangru in Taiwan
(Clearwisdom.net) Chen Yingcong, principal of Guilin Primary School in Taiwan's Yunlin County, is well known in the community for his dedication to the management of the school and his gentle manner as an elite principal. His education principals are based on Falun Dafa's principal of Truthfulness-Compassion-Forbearance. On October 6, 2008, at the State Qingshui Elite Middle School of Taichung, Mr. Chen received the 96th Annual Award from the Department of Education for his kind endeavors in teaching and outstanding contributions. The award has meant honor in education circles not only for Chen as an individual, but also for Yunlin County.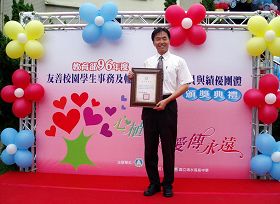 Mr. Chen Yingcong, who managed his school by the principles of Truthfulness-Compassion-Forbearance, received the 96th Annual Award from the Department of Education. This is an "outstanding contribution" award for student affairs and teaching.
Since returning from Taipei to his hometown in 1992, Chen Yingcong has been involved in writing and promoting curriculum resources for schools in the Mt Gukeng region. He has since received many educational awards for community development, and expanding on student development in multiple skills. Subsequently, he took part in planning various projects for schools and the community, and successfully obtained relevant funding. He participated in the Department of Education's "lively school grounds" scheme, and supervised the establishment of "Guilin, My Home," a well-being center and volunteer group. Chen also took part in curriculum development and interactions between schools and the community. In cooperation with Yunlin County's local government plan for small schools, due to outstanding achievements in development of both schools and the community, his was the only school to pass the audit out of 10 others in Guilin County.
Mr. Chen said, "'Guilin, My Home' was founded on the principles of Truthfulness-Compassion-Forbearance from Falun Dafa. We established 'Guilin's Blessed Classroom' and 'Guilin Healthy Village' in the hopes that everyone will enjoy every day of their lives as a result of the elevation that learning brings. This is what brought about the interaction between our school and the community, as a new model development."
When asked why he used the foundations of Truthfulness-Compassion-Forbearance, Mr. Chen said that, in the journey of his life, he has spend a great deal time in schools and education. From being a student to being a teacher and then to taking up the position of principal, throughout the entire process he has pondered: "What are the most significant factors that should be valued in education. What is the value and meaning of life?"
Having experienced situations of conflict and discord in his field, he realized that his ideals for education were very different from the current reality. His career was beset with difficulties and pressures. However, he was fortunate to come across Falun Dafa, and, through Master Li Hongzhi's teachings of Truthfulness-Compassion-Forbearance as law of the universe, he finally came to understand the central value of education, and many questions he once had about the meaning of life. He began to learn Falun Dafa and used Truthfulness-Compassion-Forbearance as the standard for self reflection. Mr. Chen then used these guidelines as he participated in community development, and saw the process as one of personal cultivation and letting go of selfish attachments. As a result he gained the respect of schoolteachers, as well as support from friends in the community, while helping the school to make outstanding achievements in life education and moral education. In the future, relying on the central values of Truthfulness-Compassion-Forbearance, Mr. Chen will continue to serve students, teachers, and the community, while further improving his character.
Mr. Chen said, "Currently, in over 80 countries around the world, more than 100 million people are benefiting in mind and body through the practice of Falun Dafa. I hope that, in Taiwan, every person will have the opportunity to learn about 'cultivation' and come to understand the significance of life and to gain happiness in the present and future.
"However, under the Chinese Communist regime's suppression, people in mainland China are unable to even discuss Truthfulness-Compassion-Forbearance or practice the exercises in private or public." Mr. Chen hopes that mainland China can gradually step out of the shadows cast by the dictatorship and enjoy respect for people's basic rights in their pursuit of Truthfulness-Compassion-Forbearance. He feels the world will also become a better place as direct result of these changes.