Dutch Library Invites Falun Gong Practitioners to Give a Presentation During the Annual City Activities (Photos)
October 18, 2008 | By a Dutch practitioner
(Clearwisdom.net) The libraries of the Dutch city Apeldoorn frequently organize cultural information days to keep the public informed about wellness issues and social developments. For this purpose they invite different local organizations to make presentations to the public. The local contact person for Falun Gong received an invitation to present Falun Gong in one of the five libraries on September 25, 2008.
Visitors of all ages and professions received Falun Gong brochures and flyers and watched a video that demonstrated the exercises. They were informed about the profound Chinese culture that Divine Performing Arts is bringing to the world. Some visitors knew about Falun Gong from the news, while others talked about the persecution of Falun Gong in China.
A retired physicist was surprised to learn that, just prior to the Olympic Games, the Chinese Communist Party prohibited satellite dishes that could receive the independent TV channel NTDTV and gave orders to have these dishes removed. He wanted to get further information about this by reading more about it on the Internet. He became interested in Falun Gong and asked if he could read the Falun Gong books. He had a long conversation with a practitioner after he heard about the persecution of Falun Gong.
At the end of the day, he and others asked for the CD with the melodious Dafa music they had been hearing all day.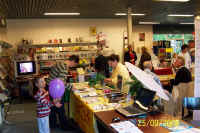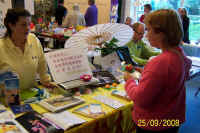 This young lady asked to learn the exercises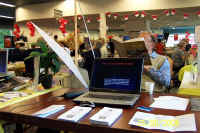 A retired physicist got interested in one of the Falun Gong books