India: Promoting Falun Dafa in Private and Public Schools (Photos)
October 12, 2008 | By Wu Shu-his
(Clearwisdom.net) On August 19, 2008, four of us visited four schools in India to promote Falun Gong.
Teachers and students at a Catholic School welcome Falun Dafa
The first school we visited was the 150-year-old St. Joseph's Convent School, which is a Catholic school established by the British. We donated twenty copies of Zhuan Falun to the teachers in the school. The sisters in the school were delighted to accept the books.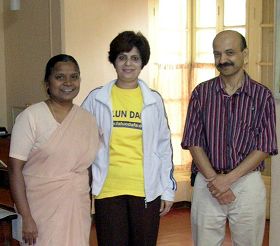 Teachers at St. Joseph's Convent School pose with Falun Gong practitioner Chitra after accepting 20 copies of Zhuan Falun
Many teachers in the school practice Falun Gong. Though the school is far from Bangalore, they occasionally go there to share cultivation experiences with practitioners there. Since understanding the importance of reading Dafa books, they urgently need more copies of Zhuan Falun, and therefore Indian practitioners asked us to deliver books to them. After visiting briefly, we departed the school and went to next one.
Teachers and students in Vidya Jyothi School waited in the hot sunshine to learn the exercises
Falun Gong was recently introduced at Vidya Jyothi School, and teachers and students were waiting for us in lines on the sport ground. After we arrived, we started to teach the exercises. Two practitioners demonstrated the exercises on stage, while one practitioner gave an explanation and repeated the hand gestures for the students to imitate. We then corrected the students' hand gestures. Since there were many students, they were divided into groups to learn the exercises together.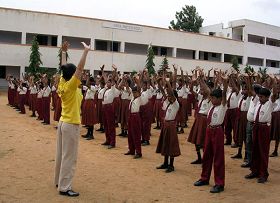 Group practice of teachers and students at Vidya Jyothi School
Inducing Falun Dafa to a school from which a practitioner graduated
After leaving Vidya Jyothi School, we went to another school to introduce Falun Gong. It was a religious school. Practitioner Lakshmi R. graduated from the school. Since Lakshmi felt that Falun Gong benefited her so much, she returned to the school to introduce Falun Gong. She introduced the principles of Falun Gong and explained the exercises. The teachers and students listened attentively.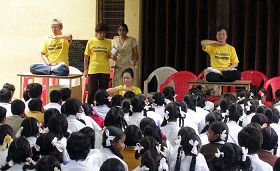 Lakshmi R. (second from right) introduces Falun Gong, while other practitioners demonstrate the exercises
At the end of the session, a practitioner asked the teachers and students whether they liked Falun Gong and if they would like to practice it. All of them said "Yes!" and raised their hands to express their intension to practice Falun Gong.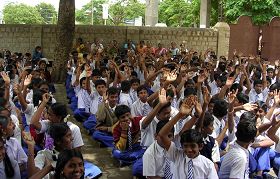 Student raise their hands to indicate that they intend to practice Falun Gong
Introducing Falun Gong in a remote school
India is really big. We visited B.G.S Public School after traveling for over an hour and a half. This was a remote public school. The total number of teachers and students are only 227. this was the smallest school I had ever visited. Before we arrived, many teachers had spoken with Indian practitioners from other regions. Principal Sri Ram Reddy of Byreshawara School, practitioner Akhila and others went there from far away to help teach the exercises. It was moving.
We were welcomed by Principal C. Byrappa and the teachers and students. After Akhila briefly told them that we had come from Taiwan and Malaysia, we started to explain and demonstrate the exercises. It was a great experience for the students. Since we had a three-hour trip ahead of us to return to Bangalore, we said goodbye to the principal, teachers and students after having a meal and a short conversation. On the way back, I was delighted that this remote school had gotten the opportunity to know Falun Dafa.