Dallas, Texas: Government Officials Congratulate the Chinese New Year Spectacular (Photos)
January 09, 2008 | By Minghui/Clearwisdom reporter Zeng Hong
(Clearwisdom.net) On January 7, 2008, the NTDTV Chinese New Year Spectacular was held at Nokia Theatre, Dallas, Texas. About 100 local government officials and people from the business community attended the reception held before the show. Several government officials issued proclamations to the show and congressmen sent letters of congratulations.


Texas State Representatives Paula Pierson and Kirk England issue a proclamation recognizing the show.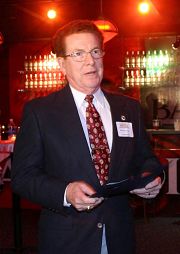 Richard Fregoe, City Council Member from Grand Prairie, issues a proclamation on behalf of the Mayor and City Council.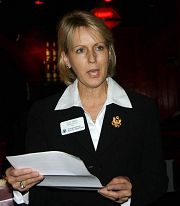 Susie Miller from Congressman Kenny Marchant's office reads a congratulatory letter.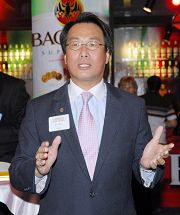 Mr. Zhou Jianyuan, the mayor of Addison, addressing the reception.
At the reception, Texas State Representatives Paula Pierson and Kirk England issued a proclamation honoring the New Year Spectacular. Congresswoman Pierson welcomed all the performers and said that it was her honor to watch the show. Congressman Kirk England read the proclamation in which the representatives expressed their support for the show and commended it for introducing Chinese culture to the American people through the arts.
Ms. Li Weina, the vice director of Divine Performing Arts, expressed the company's appreciation for the proclamations. She said that the purpose of the show is to bring pure, traditional Chinese culture, unpolluted by the communist party, to a wide audience.
The Mayor of Grand Prairie, where the show is held, issued a proclamation. City Council Member Richard Fregoe read the proclamation at the reception on behalf of the mayor and city council. The proclamation commended the show for facilitating communication between West and East, as well as for providing overseas Chinese people a good opportunity to celebrate this important holiday.
Susie Miller from Congressman Kenny Marchant's local office read the congressman's letter of congratulations, in which Mr. Marchant welcomed the performers and expressed appreciation to the show for bringing pure Chinese culture to Texas.
Mr. Zhou Jianyuan, the Mayor of Addison, welcomed the performers at the reception. He said that the show is a great way to celebrate the Chinese New Year and he wished the show much success.
Mr. Mike Simpson, the Mayor of Frisco, also welcomed the performers and wished the show complete success. Mr. Simpson recommended the show to the city council members, who also attended the reception.