Mr. Guo Changyou Dies as a Result of Persecution in Heilongjiang Province (Photo)
(Clearwisdom.net) Falun Dafa practitioner Mr. Guo Changyou, 70, lived in Harbin City and was a retired manager employed by the Service Company of the Heilongjiang Province Local Coal Management Bureau. He was known as a very kind person that loved to help others, and was loved by all of his friends and family. The people who know him are grief-stricken and said that if it wasn't for the persecution, Mr. Guo would not have died this early.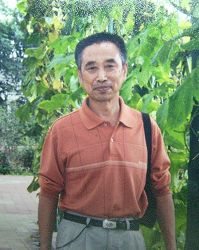 Mr. Guo Changyou
Mr. Guo Changyou's family are all Falun Dafa practitioners, and they have been cruelly treated for the past eight years. Mr. Guo was detained twice for going to Beijing to appeal for the right to practice Falun Dafa. In 2001, he was sent to a forced labor camp with a two year-term, and detained in the Changlinzi Forced Labor Camp, where he contracted severe tuberculosis and fluid collected in his lungs.
Mr. Guo Changyou's wife Ms. Wu Yulan, around 67 years old, was sentenced to eight years in prison in 2002, and she is detained in the Heilongjiang Province Women's Prison. Mr. Guo was extremely worried when he heard about his wife being tortured in the prison. His daughter Ms. Guo Hongyu was sentenced to forced labor for one year in 2000. In September 2006, she was arrested again, which caused Mr. Guo to suffer a mental collapse. He has been bedridden ever since.
Worrying about his wife and daughter damaged Mr. Guo's health. His illness worsened and he died on December 2, 2007.
It was reported that there have been several Falun Dafa practitioners who contracted tuberculosis due to the harsh conditions in the Changlinzi Forced Labor Camp. Their sicknesses were ignored by the guards, and they were not treated in time. Many of them died soon after being released. The shortest period being only one month and the longest being a couple of years. The death of Mr. Guo Changyou is another life debt the evil Party and the Changlinzi Prison Administration owe.