Actresses Amazed by Chinese New Year Splendor (Photo)
January 31, 2008 | By Minghui/Clearwisdom reporter Siew Chin from New York
(Clearwisdom.net) "It was great, really beautiful, we are amazed by its artistry and history. It's really really wonderful, hopefully more people come to see it."
This is what actress Inga Ballard said to a reporter after attending the opening night of Divine Performing Arts' Chinese New Year Splendor at Radio City Music Hall in New York, January 30.
�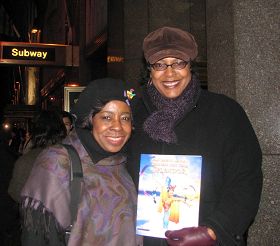 Professional actresses Inga Ballard and Marjorie Johnson
 
Inga Ballard and Marjorie Johnson are actresses. They heard about the Splendor from the Actor's Equity Association, and came to the show together. Hearing Ms. Ballard's praise of the show, Ms. Johnson also shared her thoughts: "I agree that it is a spectacular show, the scenery, costumes and projections. The projections were amazing. ... It was really, really beautiful, the costumes and all the performers were phenomenal." Â 
 
Ms. Ballard said she liked the dance-drama, "The Power of Awareness" the most, describing it as very moving.
 
Marjorie also liked The Power of Awareness, as well as the opening number Nymphs of the Sea, "The way they use fans to display waves is unbelievable, and the drum beating was also spectacular."
"This performance is very different, it has rich artistry, professionalism and story telling strength." "It's extremely unique, I have never seen anything like it, I'll highly recommend everyone to see it." Marjorie said at the end. 
Â