Philadelphia: Practitioners Participate in Chinese New Year Celebration at the Museum of the University of Pennsylvania (Photos)
January 31, 2008 | By a Falun Dafa practitioner in Philadelphia
(Clearwisdom.net) The 27th Annual Chinese New Year Celebration was held at the Museum of Archeology and Anthropology, the University of Pennsylvania, on Saturday, January 26, 2008, from 11:00 a.m. to 4:00 p.m. This is the tenth year that Falun Dafa practitioners in the Greater Philadelphia area have participated in this event.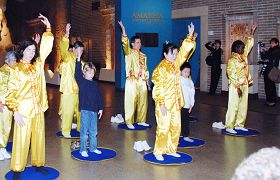 Practitioners demonstrate the exercises
Practitioners' booth
According to the organizer, the Chinese New Year celebration is one of the museum's largest events. It is estimated that 1,800 people took part this year. The activities featured music, dancing, a lion dance, Chinese cuisine, Taiji and Falun Gong exercise demonstrations, games, crafts, and children's programs. Many overseas Chinese, students, and scholars at the University of Pennsylvania had an opportunity to enjoy traditional Chinese culture, and Westerners, including many who have adopted Chinese children, had a chance to experience Chinese culture.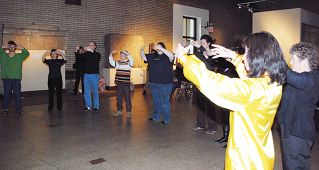 Spectators learn the exercises
Falun Gong practitioners of different ages and races demonstrated the five sets of the exercises. Many people learned them on the spot. Mr. Feng, in his 70s, demonstrated the exercises on the stage. Before coming to the US, he was in poor health. When he got on the plane from China one year ago, he was in a wheelchair. After arriving in the US, he learned about Falun Gong. He not only quit the Chinese Communist Party, but also started practicing Falun Gong with his daughter's entire family. Now he has good health and lives a happy life.
Many people who came to the Falun Gong booth said that they already knew about the persecution of Falun Gong in China, and they expressed their support for practitioners' eight-year peaceful resistance. Many Chinese people were well aware of the CCP's atrocities over the past 50 years. But some of them did not know about the wave of quitting the CCP and the importance of disassociating from the doomed organization. When Ms. Bi, who came from Beijing, heard about this, then and there she announced her decision to quit the Communist Youth League and the Young Pioneers and declared all her application letters and pledges to the CCP null and void.