The Mayor of the Village of Worth, Illinois: "It's a Magical Show!" (Photo)
January 29, 2008 | By Xu Jing in Chicago
(Clearwisdom.net) Worth is a small town south of Chicago. It is known as the "Friendly Village." Mayor Edward S. Guzdziol and the city council learned about the Chinese New Year Spectacular and decided to issue a proclamation to New Tang Dynasty Television and the Divine Performing Arts company. Not only that, Mr. Guzdziol and his wife attended and agreed, "It's a magical show!"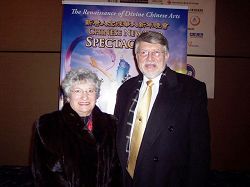 The Mayor of the Village of Worth and his wife pose for a photo after the show
Mr. Guzdziol's wife told the reporter, "Magical--that's the impression I had. I liked each and every program!" Mr. Guzdziol said, "It was indeed exciting. The performers were in such control of their balance and their bodies. For example, the one-leg stands and the rapid turns. It's hard to do that." The mayor said with a smile, "Of course, the performers are in very good shape."
The couple said they had had a wonderful day and would come back next year.
The Divine Performing Arts' shows left an unforgettable impression on the audiences in Chicago. Just as the mayor of the Village of Worth stated in his proclamation: "The 2008 Chinese New Year Spectacular, with the theme of 'Myths and Legends,' features 5000 years of time-honored folk tales that illustrate the heavenly cultural gifts bestowed upon China during its long reign of civilization." The mission of the annual Chinese New Year Spectacular is to help the people rediscover the essence and divine beauty of true, traditional Chinese culture through a high-caliber, world-class performance.