Toronto, Canada: "We're So Honored to Be a Part of the Show!" (Photos)
(Clearwisdom.net) Every time the 2008 Chinese New Year Spectacular show, presented by Divine Performing Arts, came to a close, many exhilarated audience members lingered in the lobby of the Sony Center. The reporter interviewed some of the audience.
Two women came to the show together. The one in the photo below exclaimed, "Outstanding, very good, very beautiful! The dances, the costumes, the spirit and the traditions--fantastic! The depictions of traditional values and morals were great! They proudly expressed all this so joyously and with such pride." "We're honored to be a part of the show! The dances were so graceful!"
Her friend said, "The drumming piece was inspiring. The drummers were so synchronized and in harmony. I worked as a volunteer at the Hamilton Theater, and this is the best show I have ever seen! We are grateful to you for bringing us such talent, spirit, and tradition and making it a part of Toronto!"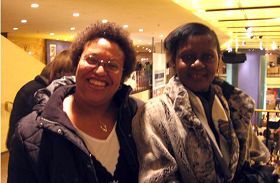 Rebeca (left) and her friend: "Fantastic! We loved all the performances!"
Among two other women who were interviewed, Rebeca remarked, "Fabulous! The show had something traditional and also something happening right now. I really loved the song that told what is happening in China. 'The Power of Awareness' dance was very, very moving. I liked it a great deal! I saw the documentary film 'Passing through the Red Wall' on TV, and I know about the Chinese Communist Party's persecution of Falun Gong. The tragedies that are happening right now were portrayed in graceful and elegant dances. Very good! All the dances were graceful, very nice--a visual feast! I'll tell all my friends to come see it!"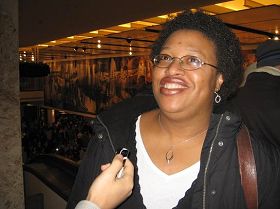 Rebeca said, "All the dances were elegant--a visual feast!"
Her friend commented, "Fantastic! I loved all the programs. Each one was terrific! The drumming finale was especially marvelous!"