Chinese Performing Artist Praises the Spectacular and Shares Her Family's Story of Being Persecuted by the CCP (Photo)
January 25, 2008 | By Epoch Times correspondent Huang Yiyan reporting from Los Angeles
(Clearwisdom.net) The Divine Performing Arts of New York staged four Chinese New Year Spectacular shows at the Nokia Theatre, the largest theater in Los Angeles. The performances concluded January 20, amid enthusiastic applause. Some Chinese audience members said they were proud of the show and felt honored to be have been able to attend.
Amy Chen, a pingtan (storytelling and ballad) artist from Shanghai said excitedly, "I've waited a long time for this show--it's a source of pride for Chinese people! I am so proud!"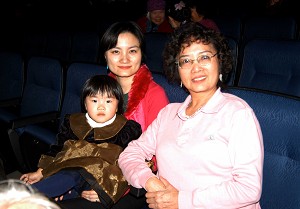 Shanghai Pingtan artist Amy Chen (right), her daughter and granddaughter at the Spectacular
She praised the female dancers for their sweeping, synchronized performances. She also gave high marks for the costumes and music, which she declared "world-class."
She said, "The tenor is outstanding! His voice is so bright and solid and carries such a wide range. He is a national treasure!"
Ms. Chen supports Falun Gong, which some of the performances depict. She said, "I protest the [Communist Party's] persecution of 'Truth-Compassion-Tolerance.' If everyone in the world would believe in 'Truth-Compassion-Tolerance' there would be no war and there would be no need to advocate 'harmony.' Look at China now! It's terrible! I wish everyone would follow 'Truth-Compassion-Tolerance.'"
Ms. Chen then told the reporter the following story.
During the Cultural Revolution she was a teenager attending Gezhi Middle School in Shanghai. A high school student escaped to America, and the school authorities conducted an investigation. One classmate falsely reported her [Ms. Chen] to the officials, and she was arrested and persecuted. She said indignantly, "I was a teenager! What did I do? They took me away and tortured me!"
Ms. Chen's father was also arrested and persecuted.
Ms. Chen said that, prior to the communist takeover, her father had been an intellectual and was the chief editor at a newspaper agency. He was dragged away and brutally tortured and died as a result of torture during the Cultural Revolution. "I was not allowed to see him before his death," Ms. Chen lamented.
"My father was labeled a 'counter-revolutionary writer,' merely because he had interviewed Chiang Kai-Shek [the Chinese president before 1949] and his wife. [The Party officials incited] a group of ignorant students to beat him to death. I will never forget it. The Party has murdered so many innocent people."
"My family used to live in downtown Shanghai, near the Great World Entertainment Center. The government wanted to make money, so they evicted us from our home and gave us a one-bedroom home in the suburbs as compensation. What they gave us was only worth 80,000 yuan [about US$10,000]. They sold our downtown home for an astronomical price! Then we had to take three different buses and walk an additional 30 minutes to get downtown. It was so convenient before the move!
"I never saw it coming. [In China] a handful of elite people in power exploit people to serve their own interests. They never did anything for the common people. That's why they are even afraid of 'Truth-Compassion-Tolerance.' They know that they are doomed to fall!"
In the end she commented, "I'm really emotional today. Although I'm a Christian, and Jesus told us to love other people, yet we have not been able to live up to Truth-Compassion-Tolerance [as do Falun Gong practitioners]. Don't you think [Falun Gong] is precious? They cultivate themselves on their own accord and have never bothered anyone else. What did they ever do to anyone? Why can't the government just leave them alone? It's ridiculous!
"I emphatically urge [the Communist regime] to stop persecuting Falun Gong."