Chinese New Year Spectacular Receives Enthusiastic Response in Toronto
(Clearwisdom.net) On the evening of January 19, the Chinese New Year Spectacular finished its third show in Toronto and received enthusiastic reviews from many audience members.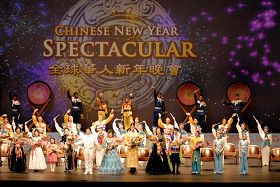 The performers take a bow after the show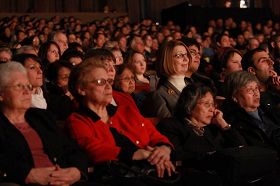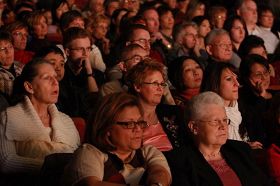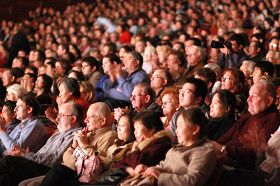 the audience
Mr. Hu speaks Mandarin Chinese, and said: "I have watched this show twice. Every piece is very good."
Mr. Zhou immigrated to Canada from Taishan many years ago and this was his second year to watch the show. He said: "It is truly spectacular, a show of traditional Chinese culture without the influence of the Chinese Communist Party. It is very good."
Mr. Wei came to Canada four years ago. He said: "It was very beautiful, very good. The costumes are dazzling and the values portrayed are very good. The 'Mongolian Bowl Dance' was very good and the choreography was great."
Mr. Li speaks Cantonese He said: "The show was great. I liked many of the singers and dancers. In particular, the lead dancers were great. I wish I knew their names."
Mr. Liu also speaks Cantonese. He has lived in Toronto for 10 years. "Though I don't know how to play piano, I like the piano solo the most," Liu said. "My favored piece was 'Herding on the Mongolian Plains', as the rhythm was very dynamic," Mrs. Liu said.
Mr. Wang is a computer expert and he has come to the show every year. "I feel that the show is improving every year. I liked the whole show, but 'Drummers of the Tang Court' and the Fan Dance are my favorites," Wang said. "It portrayed many traditional Chinese legends with classic Chinese dance. It was beyond my expectation, and the best celebration for the Chinese New Year!"
Ron Steingold works in a company's Marketing Department. He said that he had seen many different types of dances and the classic Chinese dance is very beautiful.
"Compared with other dances, the Chinese dance has more culture connotation and the costumes are more colorful. The last drum dance [the Resounding Drums] is my favorite. The show apparently is very popular and looks like the tickets were almost sold out. The theater and the location are both very good." Steignold said, "It was an excellent show. I will recommend it to others."