Mortgage Company President: Liked the Show for Its Cultural Content (Photos)
January 21, 2008 | By Huang Kaili
(Clearwisdom.net) The Divine Performing Arts performed in the Nokia Theatre LA Live venue in Los Angeles on January 18, 2008. Audience members gave the show high commendations.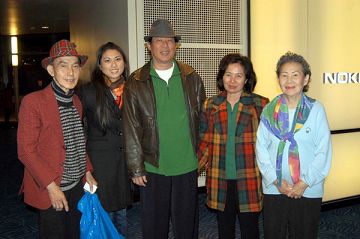 The owner of a Thailand-Chinese restaurant (left), 72 years-old, watched the show with his family of three generations. His granddaughter Amy Thonglai (second from left) said that the show was very good. The day before was her father's birthday and she bought the tickets as a birthday gift. Her father said, "I am very satisfied with the birthday gift."
Mortgage Company President: "It is interesting to understand Chinese culture."
Ruben Lopez Sr., LPZ Mortgage Company, said he liked the show because of its cultural connotations. He said, "Only culture can be passed down."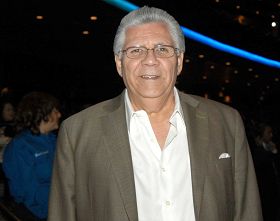 Ruben Lopez Sr. of LPZ Mortgage Company
Mr. Lopez said that people would live in harmony if each other's cultures were understood.
He mentioned that the performance about the persecution of Falun Gong practitioners was touching. He said indignantly, "Those thugs persecuting Falun Gong practitioners are inhumane. Anyone with any humanity would not do that."
Ruben is a Spanish descendant. He said that earlier generations of Spanish people were like Chinese people in respecting the elderly and caring for the young, "Earlier generations of Spanish people have big families with grandparents and grandchildren in the same family. People didn't drive old people out of the family. Chinese people could not do it. But now society has changed. People don't behave like that."
He said, "The message in the show is important. Human beings should be kind, sincere and respectful of each other."
Chinese Culture is Attracting
Reporter Enrique Carrion of a Spanish weekly newspaper said he liked the show very much, "Very colorful."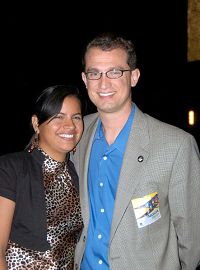 Reporter Enrique Carrion of a Spanish weekly newspaper and his wife Pacratia Vurita.
Enrique said, "I like the 'Drummers of the Tang Court.' It was exciting."
It was his first time experiencing Chinese culture. He said, "Five-thousand-years of culture is a very long time, and rich in connotation."
After watching the show, his wife Pacratia Vurita said, "I am happy to watch the show. I like it very much, very colorful. I enjoyed it very much."
She said that after watching the show she felt attracted to Chinese culture. "I wish to know more."