Building Contractor in San Diego Audience: "Chinese Culture Is Graceful" (Photos)
January 19, 2008 | By Lu Zhenyan
(Clearwisdom.net) On January 16, 2008, the touring company of the Divine Performing Arts held the second and third performances of the Chinese New Year Spectacular in San Diego, California. The performances attracted an audience from all walks of life. Some were moved to tears. At the end of each program, the audience gave warm applause.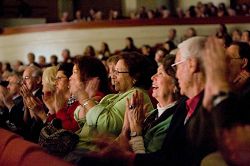 Applauding the show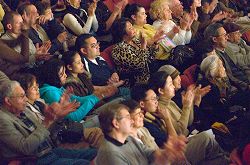 Watching the show attentively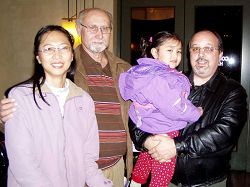 Contractor Al Bitetti (second from left), his wife and friend John Goodman come to see the show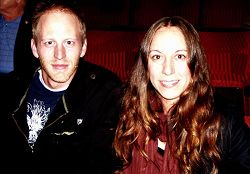 Maureen Farley (right) studies Oriental Medicine at Pacific College, and her husband Garrett Duema (left) liked the show very much. Maureen said, "The costumes are beautiful. The backdrops and stage integrated very well."
Building Contractor: Chinese culture is graceful
Al Bitetti said, "Tonight the show opened my eyes. Chinese culture is graceful." He is a contractor. His nephew is a dance performer, so Al sees a lot of shows. He thought this show was very good, "I like the grace and beauty of the performances." He said the lyrics of the songs led one to think deeply.
Al Bitetti's friend, John Goodman said, "After watching the show, I feel very good. There was a strong energy field."
John has been to China several times. He visited Beijing and climbed along the Great Wall.
A Student of Psychology: I will learn more about Falun Gong
Jannet Lee, a senior student of psychology at San Diego State University said, "I like the animated backdrops. It is creative. The stereo animation coordinated with the dancing very well."
She continued, "I did not know about Falun Gong before. Now I know many people practice it." She said she will investigate more on the Internet.
She was pleased to learn that the Chinese New Year Spectacular will soon be shown in Los Angeles and San Francisco, where she and her friends are from.