Vocal Competition Winner Admires Singers in the NTDTV Spectacular (Photos)
January 17, 2008 | By Xiao Yan, Minghui/Clearwisdom reporter
(Clearwisdom.net) New Tang Dynasty Television's (NTDTV) Chinese New Year Spectacular staged its first performance in Montreal, Canada on the evening of January 15, 2008. Mrs. Guo Jinhui, one of the gold award winners in NTDTV's 2007 World Vocal Contest, said she admired the singers who performed in the Spectacular.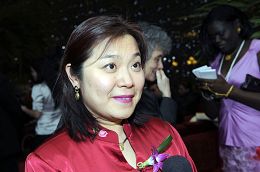 One of the winners of NTDTV's 2007 World Vocal Competition, Mrs. Guo Jinhui admires the singers who performed in the New Year Spectacular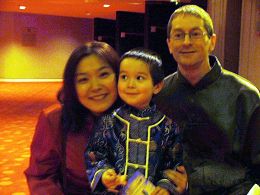 Mrs. Guo and her family watched the 2008 Chinese New Year Spectacular together in Montreal
Mrs. Guo said that the whole show was very good from an artistic point of view, including the visual and audio components, and in its clarity in presenting rich cultural content and nuances to both a Western and Chinese audience. For example, she felt that the Chinese and English lyrics projected on the backdrop behind the singers helped the audience to understand the content of the songs and the persecution of Falun Gong by the Chinese Communist Party.
She had nothing but praise for the singers who performed in the Spectacular. "They have toured so many cities and have sung so many performances continuously, yet they still perform at such a high level. I really admire them."
Mrs. Guo also talked about the dance component of the Spectacular. "The costumes are beautiful! The dancers are lovely and they made me feel so pleasant."
She continued, "Their performance truly let people feel the meaning they want to present. When I saw the program where the Falun Gong practitioners were tortured, I wept again. I cried last year when I saw the show, but this time, I have a deeper understanding of Falun Gong. It is a different feeling this year."
Ms. Guo enjoyed the drum performance because the dancers were so well synchronized and the program was very impressive.
With a live orchestra to accompany the show, Ms. Guo said, "The live orchestra brings a different dimension to the audience, and it has an especially good director."
Guo Jinhui's husband is a Westerner. They came with their son. "The people who sat around me were all Westerners. They felt really good about the show and said they were sorry that they missed the show last year."