Chinese Audience Member in Denver: The Show Makes Me Proud of Our Splendid Culture (Photos)
(Clearwisdom.net) On January 12, 2008, Divine Performing Arts' Chinese New Year Spectacular presented two shows at the Denver Center for Performing Arts, attracting nearly 5,000 western and Chinese audience members, including many children. Many audience members expressed their great appreciation for the shows.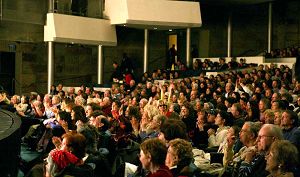 Denver audience watched the show intently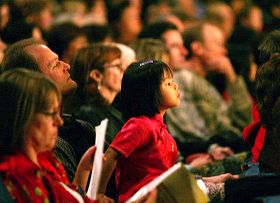 A young girl pays close attention to the performance
A Chinese audience member named Wang Naili said she felt proud, because the stage backgrounds, costumes, and performances were so beautiful, and so many people could see such wonderful Chinese culture.
Ms. Wang has been living in Denver for over 30 years, and works at the state government department. Talking about the performance, she said, "It is absolutely wonderful. I'm honored to be here to watch the show. Especially that grand Tang Drum dance ("Drummers of the Tang Court"). It was very powerful."
Qun, Melanie, and Kai are three nine-year-old children from Guangdong Province of China. They attended the show with their parents. After watching the show, they were eager to express their feelings for the show. Qun said, "I like the performance very much! It was very, very, very great!" She said she liked best the dance "Water Sleeves."
Kai said, "I like the dance with long long sleeves and high-heeled shoes."
Melanie said, "I like the whole thing."
The three of them are studying Chinese in a Chinese school. They said that after watching the show, they are even more excited about learning Chinese.