University of Ottawa Professor Recommends Chinese New Year Spectacular (Photo)
(Clearwisdom.net) Before the Chinese New Year Spectacular was performed in Ottawa, a Clearwisdom reporter interviewed Cyril Dabydeen, an award-winning professor of English at the University of Ottawa. The professor watched the show last year and highly recommended that Ottawa residents watch the show this year on January 13-14.
Professor Dabydeen said that the Chinese show, with its very high standards, will help everyone in Ottawa and across Canada focus on the role cultures play in advancing the quality of life of all our citizens. The show will promote cultures by making us think of the high standard that can be achieved in human artistic pursuits and endeavors. I truly enjoyed the show the last time it was in Ottawa at the National Arts Centre. It made me think of the joy of culture, as well."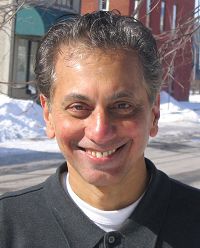 Award-winning Professor, Cyril Dabydeen
Professor Dabydeen highly commended the moral values portrayed in the show. He said that moral qualities are very important, especially at a time when there seems to be moral conflict and confusion because of the influence of popular culture stemming from the mass media. This Chinese show will emphasize the importance of time-worn cultural and moral values and traditions-- which we should all reflect on seriously in our quickly changing world. An appreciation of tradition helps us to have stability; this show will surely help to foster this spirit among young and old alike.
"This spectacular Chinese show will surely demonstrate to everyone the wonderful talent inherent in Chinese tradition in arts and culture, and help the people of Ottawa to appreciate our Chinese community fully," Professor Dabydeen said.