Canadian Musician Strongly Endorses Chinese New Year Spectacular (Photo)
January 16, 2008 | By a practitioner in Toronto
(Clearwisdom.net) The Divine Performing Arts will present the Chinese New Year Spectacular on January 18-20, 2008 in the well-known Sony Centre in Toronto, Canada. Matthew Jaskiewicz, a conductor who led the orchestra that performed in the 2006 Chinese New Year Spectacular shows, expressed his high expectations for the 2008 Chinese New Year Spectacular, and strongly recommended the show to his friends and colleagues.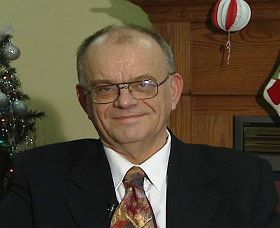 Matthew Jaskiewicz is the musical conductor for the Ryerson University professional Alchemy Choir, the Toronto Jiaoxuan Band and the Toronto Little Angels Choir. "I was privileged to be invited for the 2006 Chinese Spectacular and I participated in that concert. It was a splendid performance." Mr. Jaskiewicz was impressed by the spiritual values in the show. He said that western people can learn a lot from these values and that this was one of the reasons he invited his friends to see the show.
Mr. Jaskiewicz lived half his life under the control of the Polish Communist Party. Therefore, he said he clearly understands how the Chinese traditions were lost under communism. He added that he was very happy to see the successful re-emergence of Chinese culture via NTDTV's Spectacular. He pointed out that traditional Polish culture without elements of communism is now being promoted in Poland and that a similar situation would happen in China.
He was impressed by the scale of 2008 Chinese New Year Spectacular. He said that he thought it would be successful throughout the world, and that everyone should promote communication between cultures.
He added, "And I know that this concert is going to promote truthfulness, compassion and beauty of the Chinese traditions with no communist connections. I'd like to take this opportunity to wish everybody a happy new year."