Audience Member at Spectacular Debut in Denver: "The Show Is Incomparable!" (Photo)
January 15, 2008 | By a Minghui reporter
(Clearwisdom.net) Teresa Barker of Boulder, Colorado, saw the NTDTV Chinese New Year Spectacular in Denver with her mother-in-law, Ms. Gene Barker, on January 12.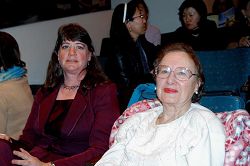 Teresa Barker (left) of Boulder and her mother-in-law, Gene Barker (right)
Ms. Gene Barker said the show was "incomparable" and that her favorite selection was "Drummers of the Tang Court."She had heard about the show from a co-worker and remarked that she had never seen such a show. Although she had seen Chinese dances on TV, the dances in this show, she said, were "far superior." She was amazed by all the performances, which impressed her as very traditional, graceful, and serene. She particularly liked the colorful costumes and the drum dances.
Teresa Barker noticed that the movements in Chinese dance were unique, quite different from any other dances she had ever seen.
Their friend, Andre, said the performers would be persecuted if such a show were held in China. He said the show taught him many things, and he wanted to know more details about Falun Gong. He said he would pray for Falun Gong practitioners, because "truthfulness" and "compassion" is what this world needs.