Taiwan's Divine Land Marching Band Performs at Mid-Autumn Festival (Photos)
September 28, 2007 | By a practitioner from Taiwan
(Clearwisdom.net) On September 22, 2007, the Divine Land Marching Band in Taiwan, made up entirely of Falun Gong practitioners, was invited by Linkouhsiang Town, Taipei County to perform in Linkou Park to celebrate the Mid-Autumn Festival with local citizens.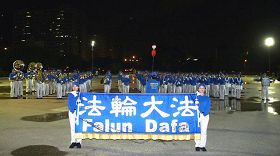 The band performs
The Divine Land Marching Band, comprised of more than one hundred Falun Gong practitioners from Taiwan, performed the song "Falun Dafa is Good" at the beginning of the celebration.
Mayor Cai praises Falun Gong
The mayor of Linkouhsiang, Mr. Cai Tsongyi, thanked practitioners for bringing the beauty of Falun Gong to the guests. He expressed that Falun Gong is beneficial to people, and the town government was honored that practitioners came to perform at the celebration.
Practitioner calls for end to the persecution
At the celebration, practitioners called for the end of the persecution. They asked the Chinese government to release all the imprisoned practitioners so that they can celebrate the festival with their families.
After "Falun Dafa is Good," the band played "Fa Drum," "Fa Rectifies the Universe" and "Blessing" for the guests.
Many people said that they liked the band's performance. Ms. Lin said: "I look forward to the celebration of the Mid-Autumn Festival every year. But this year it is so different because of Falun Gong. Can you please come back next year?"