Washington State, U.S.A.: Spread the Fa at Benton Franklin Fair Parade (Photos)
September 27, 2007 | By a Western practitioner from Washington
(Clearwisdom.net) Falun Dafa practitioners participated in their first parade in the Tri-Cities of central Washington state on Saturday, August 18, 2007. The parade organizer said he was so intrigued by the Falun Dafa entry that he placed the entry near the front of the parade.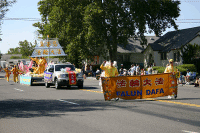 Practitioners drove from Seattle, Lewiston, and Spokane, beginning in the early morning hours to support this parade, and to help with all aspects of the process, including passing out lotus flowers and flyers before and after the parade.
Officially called the Benton Franklin Fair Parade, this parade was in the heart of the three cities (Kennewick, Richland, Pasco), in downtown Kennewick, passing by many of the city's landmark schools, churches, library and businesses. Judging from the enthusiasm of the crowd, they were very pleased to see us. Also, a reporter was very interested, took many photos and walked along side the float for three blocks talking to a practitioner on the float the whole way.
The public was very receptive and gladly accepted paper lotus flowers and flyers that explain Falun Gong and the persecution.