New Zealand: Parliament Holds Hearing on the CCP's Crime of Harvesting Organs from Living Falun Gong Practitioners (Photos)
September 15, 2007 | By a Falun Dafa practitioner in New Zealand
(Clearwisdom.net) On the afternoon of Sept. 11, 2007, five Parliament Members of New Zealand Foreign Affairs, Defense and Trade (FADT) held a hearing on the CCP crime of harvesting organs from living Falun Gong practitioners. Canadian independent investigators David Kilgour and David Matas, victim of the persecution of Falun Gong Mr. Huang Guohua and Falun Gong spokesman Mr. Zhang Erping gave their testimony.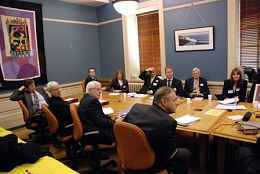 Hearing
Mr. David Kilgour introduces new evidence of the CCP's crime of harvesting organs from living Falun Gong practitioners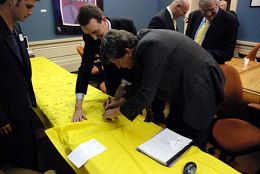 Members of Parliament sign to call for an end to the persecution.
Five Parliament Members attended the hearing, as well as Dr. Catherine Casey, Spokesperson for the Coalition to Investigate the Persecution of Falun Gong (CIPFG) in New Zealand and several human rights lawyers.
Mr. David Kilgour and Mr. David Matas introduced some new evidence they collected regarding the crime.
Mr. Zhang Erping provided some background information. Falun Gong was very popular in China before the persecution. The Chinese government soon discovered the health and morality benefit of Falun Gong and issued awards to Mr. Li Hongzhi, the founder of Falun Gong. A Chinese official once said, "Falun Gong and other forms of Qigong can save one thousand Yuan per practitioner every year. If one hundred million people practice Qigong, one hundred billion Yuan can be saved every year."
Mr. Zhang said that the Chinese government changed its attitude after a survey in 1998. The survey showed that seventy to one hundred million people practiced Falun Gong. The number exceeded the membership of the CCP. The head of the CCP Jiang Zemin felt the popularity of Falun Gong was a threat to his power and gave orders to eliminate Falun Gong. That was the main reason for the banning of Falun Gong in China.
Another reason was the incompatibility of Falun Gong's principles and those of the CCP. If a large group of Chinese people followed Falun Gong, it would mean the return of traditional Chinese values. They would then turn away from the CCP.
Dr. Catherine Casey said with tears in her eyes, "As government officials, how can we stand to see such a cruel crime? How can we allow it to continue? I can't. My heart doesn't allow me to. Our government must step forward!"
Dr. Casey was interviewed after the hearing by News Talk ZB, the largest radio station in New Zealand. The interview was played during prime time. Dr. Casey said that mayors who have counterparts in Chinese sister cities should raise the issue to the CCP.
All five Parliament Members signed their names to call for an end to the persecution. Member of CIPFG and lawyer Kerry Gore said that the hearing was a great push to stop the persecution and investigate the organ harvesting crime.