CCP's Live Organ Harvesting Becomes Media Focus during APEC Summit (Photo)
September 10, 2007 | By Zeng Ni
(Clearwisdom.net) During the APEC Summit in Sydney, Australia, allegations of the Chinese Communist Party's (CCP) organ harvesting from living Falun Gong practitioners became the media focus again. In the first press conference of the APEC Summit on September 6, 2007, a reporter from New Tang Dynasty TV (NTDTV) Station raised the question to Australian Foreign Minister Downer in the presence of more than one hundred reporters from many countries. The Sydney Morning Herald and other mainstream media carried reports on the CCP's live organ harvesting.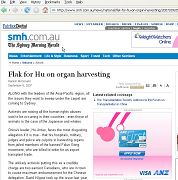 Sydney Morning Herald carries a report on CCP's organ harvesting
At the APEC Summit press conference jointly hosted by Foreign Minister Downer and Commerce Minister Warren Truss, an NTDTV reporter first asked, "Last year, Mr. David Kilgour, former Secretary of State for Canada and one of the authors of the 'Report into Allegations of Organ Harvesting of Falun Gong Practitioners in China,' visited Australia. The Australian government expressed that an international investigation into allegations of the CCP's organ harvesting should be conducted. Mr. Kilgour has come to Sydney now to call on APEC leaders to pay attention to this issue. During the past year, what has the Australian government done regarding this issue?"
Outside the APEC Summit venue, a large scale rally and march hosted by Free China and forums in both Chinese and English held in the Parliament of New South Wales caught the attention of the media. Reporters from more than twenty media attended the large rally and march with the theme, "CCP must stop killing." One TV station had live coverage of the march.
The Sydney Morning Herald stated in one report, "China's leader, Hu Jintao, faces the most disgusting allegation if it is true - that his hospitals, military, judges and police are culprits in harvesting organs from jailed members of the banned Falun Gong movement, who are killed to order for an export transplant trade."
"The two Canadians (Mr. Kilgour and Mr. Matas) took up a request to investigate and have produced a report they admit doesn't have "ironclad proof" of the allegation, but which paints a disturbing picture making it believable. Since then, a Chinese vice-minister of health, Huang Jiefu, has acknowledged prisoners sentenced to death provide most of the organs for transplants.
"The Canadians say this doesn't add up. China admits to about 1600 executions a year, but does some 10,000 transplants a year, for fees from US$30,000 ($36,500) for corneas to $US180,000 for a liver-kidney donation, according to one centre in Shenyang.
"The "donated" organ arrives within a couple of weeks of the patient checking in, compared with years of waiting in home countries. The transplant is usually done in a military or police hospital, with minimal disclosure about donors.
"The Canadians supervised calls to several hospitals by Mandarin speakers purporting to be acting for patients seeking urgent transplants, getting some doctors and officials to admit taking organs from young and healthy Falun Gong prisoners.
"The publicity has led to a decline in foreigners seeking transplants in China, including Australians, they claim. 'Once they are aware that donors are being killed on demand, like lobsters in some horrible restaurant, they don't want to be involved,' Kilgour said."
On September 5, three large scale events were held in the Parliament of New South Wales. The mainstream media covered the forums on the theme "China's crisis and solution." The participants included international experts and recipients of human rights awards from the Asia-Pacific Foundation. Forums were held in both Chinese and English. The Chinese Embassy pressured Governor Morris Iemma and Senate Speaker Peter Primrose to cancel the events, but failed.