Additional Information about the Persecution of Ms. Gong Xingcan from Sichuan Province (Photos)
(Clearwisdom.net) The following is additional information about the persecution of Ms. Gong Xingcan after her April 26, 2006 arrest.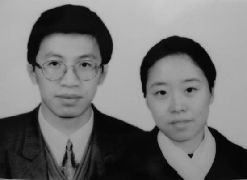 Gong Xingcan and her deceased husband
On April 26, 2006, Gong Xingcan and another Falun Gong practitioner were arrested while on the way to Yancheng Town, Leshan City. They were sent to the police station in Yancheng Town. Gong Xingcan had 12,000 Yuan cash with her, which the police confiscated.
On April 30, 2006, Gong Xingcan was sent to Nanmusi Labor Camp in Zizhong City. Upon her arrival, four policemen pulled her into a solitary confinement cell, where she was badly tortured. Since she refused to renounce Falun Gong, she was so badly tortured that her face was deformed and she could no longer walk. Previous torture had fractured one of her legs, and this aggravated the injury. Even under such circumstances, the labor camp are still holding her in the solitary confinement cell. Her current situation is unknown.
Mu Yong, Gong Xingcan's husband, practiced Falun Gong in 1998 but quit because of the persecution. When Gong Xingcan was persecuted, Mu Yong was placed under huge pressure from 610 Office agents, people at his workplace and the police station. He fell ill under the immense pressure and passed away in January 2003. He was 33.



Below are two X-rays of Ms. Gong's fractured leg suffered when she tried to escape from a torture session. The leg had not yet healed when she was sent to a labor camp again.
Phone numbers of the Nanmusi Labor Camp:
The seventh team of the third division: 86-832-5212613
Education Department: 86-832-5212174
Chief Zhang's office: 86-832-5212053
Chief Wu's cell phone: 86-13541506058