Sweden: Truthfulness-Compassion-Forbearance International Art Exhibition in Gothenburg Attracts Attention (Photos)
(Clearwisdom.net) On July 14, 2007, a Truthfulness-Compassion-Forbearance International Art Exhibition was held at the city library in Gothenburg. During the week-long exhibition, the artworks created by Falun Gong practitioners drew many people's attention from artists, politicians, tourists and other local people. Some of them came especially out of admiration for the exhibition and some were attracted when they were passing by the exhibition hall.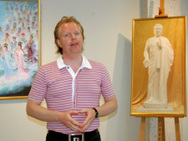 A Swedish congresswoman, Eva Selin Lindgren, visited the exhibition twice. She said, "I can feel the strength of Truthfulness Compassion and Forbearance from the art pieces!" Another Swedish congressman, Hans Rothenberg, mentioned in his speech at the opening ceremony of the exhibition that "While strengthening the economy and trade, we should also promote democracy and human rights. We must put forward the requirements of the Swedish athletes and staff who will attend the Beijing 2008 Olympics: they should be Sweden's ambassadors of democracy and human rights, and should undertake the obligation of making China's democracy progress and improving China's human rights condition. The "Gothenburg Ship" should also bring the concept of Swedish people's democracy and human rights into China."
Source: http://clearharmony.net/articles/200707/40487.html