Taiwan Representative in the United States Condemns Massive Deportations from Hong Kong, Calls the World's Attention to the Injustice (Photo)
(Clearwisdom.net) On July 9, 2007, Mr. Wu Zhao Xie, a representative of Taiwan in the United States, condemned the Hong Kong authorities for their massive forced deportations of Taiwanese Falun Gong practitioners last month. He mentioned that the US government has noticed their actions, and he believes the world should condemn Hong Kong's illegal actions.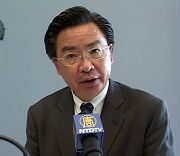 Mr. Wu Zhao Xie, representative of Taiwan in the United States of America
Mr. Wu was attending a Democracy Forum in the United States Congress at the invitation of the Association of Third World Studies. He addressed the in which close to five hundred Taiwanese citizens traveling to Hong Kong with legal documents were deported by Hong Kong authorities. Some of them even received violent treatment. He said the Taiwanee government has issued a formal statement to condemn the Hong Kong authorities and stated it was a regression of Hong Kong's human rights and democracy record. The statement calls on Hong Kong to correct its misguided actions.
Mr. Wu also mentioned that he had communicated with the U.S. on this issue. He said, "Last week, when vice president Lu Xiu Lian stopped in San Francisco on her way to South America, she also raised this issue. We believe our friends in the U.S. government also have a fair understanding of this matter. We believe the most important thing is that Hong Kong be condemned by the world for its uncivilized actions."
Mr. Wu also said that Taiwanese people no longer respect the "One Country Two Systems" policy. In the past ten years, Hong Kong's freedoms, especially the freedom of speech and of the press has deteriorated. Many members of the media have been silenced and media companies have been bought by China. With regard to democracy, Hong Kong's chief executive and all council members are still not elected by the people.
Taiwan, on the other hand, has already changed from a dictatorship to a democracy. The congress and president are both elected by the public. Mr. Wu remarked: "This is a sharp contrast."