Thirteen Falun Dafa Practitioners' Deaths from Torture in China Confirmed on May 2007 (Photos)
(Clearwisdom.net) In May 2007, it was confirmed that 13 Falun Dafa practitioners in China died as a direct result of torture. Among these practitioners, nine died between January and May 2007, and three died in May. Among the victims, eight were women, representing 61.5 percent of the total and ten were over 50 years of age, representing 76.9 percent of the total.
Clearwisdom records show that more than 3,013 practitioners in China have been confirmed as having been persecuted to death since the Chinese Communist regime's massive persecution of Falun Gong began on July 20, 1999. Ever since then, the Chinese Communist regime has constantly been covering up the persecution. There are many more cases of practitioners missing, being tortured to death, and having their organs harvested while they were still alive, then cremated immediately to destroy evidence. Their cases remain obscured by the CCP.
The 13 death cases were reported from nine provinces and autonomous regions, four cases from Liaoning Province, two from Hebei Province, and one from Heilongjiang Province, Beijing, Chongqing City, Sichuan Province, Hunan Province, Shandong Province, and Guizhou Province. Falun Gong practitioners were brutally tortured to death by the CCP because they remained firm in their belief and clarified the truth about the persecution to people. Among the 13 victims, some were brutally beaten to death by the police, some suffered torture physically and spiritually and were persecuted to death, and some were killed in the CCP's hospitals.
Tang Xingyun Was Beaten to Death by Ten Shenyang City Shashan Police Officers Using Electric Batons
(Please refer to: http://minghui.ca/mh/articles/2007/5/3/154041.html )
Ms. Tang Xingyun, 65 years old, was a practitioner from the Heping District, Shenyang City, Liaoning Province. On the evening of March 10, 2007, at around 8 o'clock, she was reported to the police when she sent truth-clarifying materials to the Shashan Community District and was arrested by the police from the Shashan Police Station soon afterwards. Ten police officers used electric batons to attack her simultaneously. She died at the Shashan Police Station.
Tang Xingyun had hypertension, cardiovascular disease, and other diseases before practicing Falun Gong. She began to practice in 1996. Soon after that, her diseases all disappeared and she truly experienced happiness without any disease. After that, she used her own experiences to introduce the Fa to other people and helped many people start to practice Falun Dafa.
After July 20, 1999, the Chinese Communist Party started to persecute Falun Gong. Tang Xingyun put great efforts into validating the Fa during these enormous tribulations. Soon after the persecution started, she was arrested and taken to the police station. The police gave her a list of names and told her to identify the practitioners. Instead, she told the police about her dramatic mental and physical improvements after practicing Falun Gong. She told the police, "Falun Dafa is good. You should not arrest Falun Gong practitioners." The police agreed and released her.
Tang Xingyun also used her very limited retirement pension to help produce truth-clarifying materials. Once she heard that a materials production site lacked funds. She then sent all of her savings to the material site. She wanted people to know the truth and position themselves righteously during Fa-rectification to have a good future.
Ms. Li Huiqi from Shijiazhuang, Hebei Province, Died Five Years after Being Paralyzed from Torture While Detained at Shijiazhuang Forced Labor Camp
(Please refer to: http://www.clearwisdom.net/emh/articles/2007/5/16/85688.html )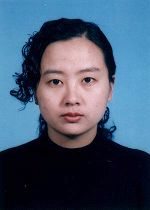 Li Huiqi (before the persecution)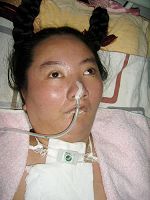 Li Huiqi paralyzed and in a coma. Her trachea was cut and she breathed through a tube.
Falun Gong practitioner Ms. Li Huiqi from Shijiazhuang, Hebei Province, was paralyzed in 2002 from torture at the Shijiazhuang Forced Labor Camp. She died on April 27, 2007, at the age of 40, after enduring five years of excruciating pain.
Ms. Li Huiqi worked at the Shijiazhuang Paint Factory in Hebei Province. She never spent a single Chinese New Year with her family after 1999 because of the CCP's persecution of Falun Gong.
She went to Beijing to appeal for Falun Dafa on February 10, 2000, and was illegally arrested. She was held at the paint factory after being released from the detention center. She explained the truth to her colleagues in December 2000 and told them that Falun Dafa is good. The factory officials canceled her work contract and notified the Youyi Street Police Station. She was then arrested from home. She was held at a detention center and later at the Youyi Street Police Station.
Li Huiqi was reported on December 2, 2001, while clarifying the truth about Falun Gong near the factory. She was arrested by the police from the Weiming Street Police Station in Shijiazhuang City and held at the No. 1 Detention Center of Shijiazhuang City for two months. She was "illegally sentenced" to one year of forced labor and was taken to Group 2, Division 4 of Shijiazhuang Forced Labor Camp on February 2, 2002.
She was on the brink of death from torture several times at the labor camp. Her family demanded to see her and requested medical parole, but the camp authorities refused.
Li Huiqi was taken to the Emergency Department at the Hebei Province People's Hospital on April 9, 2002, when she was close to death. Her family was finally allowed to see her for the first time since she was taken to the labor camp. She was emaciated.
Even so, the forced labor camp authorities did not relent. During her hospitalization, five police stood outside her room while three plainclothes police stayed inside her room and monitored her 24 hours a day. They arrested practitioners who went to visit her. The police were afraid that what had been done to her would be exposed and did everything to prevent their crimes from being revealed.
Li Huiqi was totally paralyzed and in a coma. Her trachea was cut so she could only breathe through a tube.
The camp authorities turned the still unconscious Li Huiqi over to her family on December 3, 2002, claiming that her sentence had expired. For a long time after she was taken home, police cars and 610 Office agents were staked outside her home every day. They monitored her and her family to prevent the police's crimes from being exposed. On May 20, 2006, some evildoers were sent to harass her family at their home. At only 40 years old, Ms. Li Huiqi passed away on April 27, 2007.
The Chinese Communist Regime's Hospitals Have Participated in Killing Falun Gong Practitioners
During the close to eight years of this unprecedented persecution, Falun Gong practitioners have been brainwashed and brutally tortured by the CCP, including while in the CCP's hospitals. Based on a May 2004 report by the World Organization to Investigate the Persecution of Falun Gong and China Mental Health Watch, more than 100 mental hospitals in 23 provinces, municipalities, and autonomous regions in China have participated in the persecution of Falun Gong practitioners. Several thousand practitioners have either been crippled, driven to mental disorder, or died in the hospitals. In the death cases confirmed in May 2007, practitioners Zhao Zhongling and Wei Hua were both persecuted to death in the CCP's hospitals.
The Qingyang District People's Hospital in Chengdu City Persecuted Zhao Zhongling to Death
(Please refer to http://www.clearwisdom.net/emh/articles/2007/5/18/85826.html )
Ms. Zhao Zhongling, 44 years old, worked at the Jinjiang Electrical Machinery Plant in Chengdu City. She was "illegally arrested" and detained several times, just because she believed in "Truthfulness, Compassion, Forbearance." Zhao Zhonglin was held in the Nanmusi Women's Forced Labor Camp. Police officers Zhang Xiaofang and Mao Yuchun commanded the criminals to use all sorts of methods to torture her. They kicked and beat her, shackled her in a small room, didn't allow her to sleep or go to the restroom, and force fed her with concentrated salt water and unknown drugs.
On March 23, 2007, Zhao Zhongling was arrested again and held in the Pi County Detention Center. She began a hunger strike to protest the persecution of Falun Gong and was later transferred to the Qingyang District People's Hospital to be persecuted. On April 2, the hospital injected her with unknown drugs. On May 4, 2007, her sister went to see her, but Ms. Zhao could no longer talk. She could only make gestures indicating that she was miserable. Zhao Zhonglin died at the Qingyang District People's Hospital at 4:50 a.m. on May 5, 2007. Not until the afternoon of May 8 did an officer in the Jinniu District Procuratorate inform Ms. Zhao's family of her death and tell them that "the body will be burned after seven days." The authorities didn't allow Zhao Zhongling's family to see the body.
The Qingyang District People's Hospital in Chengdu City, Sichuan Province, is affiliated with the Chengdu City Detention Center. It is a prison hospital utilized to illegally persecute practitioners. The hospital actively cooperated with the Chengdu City 610 Office and the Chinese Communist Party Political and Law Enforcement Committee to systematically kill close to ten Falun Gong practitioners. Many practitioners were force-fed there and injected with nerve-damaging drugs.
The practitioners murdered by the hospital include Deng Jianping, Duan Shiqiong, Chen Guijun, Hu Hongyue, Huang Lisha, Shen Lizhi, and several practitioners who never revealed their names.
Chongqing Practitioner Ms. Wei Hua Died as a Result of Persecution in a Mental Hospital
(Please refer to http://www.clearwisdom.net/emh/articles/2007/5/26/86105.html )
Fifty-seven-year-old Ms. Wei Hua was a retired employee of the Xiejiawan Department Store in Chongqing City. She was sentenced to forced labor for two years because she persisted in practicing Falun Dafa and was detained and tortured in the Chongqing Women's Forced Labor Camp in Maojiashan between 2001 and 2003.
On September 6, 2005, just before the Asia-Pacific Economic Cooperation (APEC) meeting took place in Chongqing City, the police from the Xiejiawan Street Police Station took her away and sent her to a brainwashing center. On October 18, 2005, Xiejiawan Street Resident's Committee Secretary Yu Fulin and Yang Zhixue from the brainwashing center sent her to a mental hospital, claiming that she was suffering from a "cultural mental disease." At the time, Ms. Wei Hua was healthy both physically and mentally. Wei Hua's husband went to see his wife in the hospital many times and asked for her release many times. However, all of his requests were denied.
On November 25, 2005, the mental hospital suddenly issued an "imminent death notice." Ms. Wei's family members rushed to the hospital and saw that she was on the verge of death. She was unrecognizable and could not speak. She was vomiting and had diarrhea. There was an oxygen tube in place and she was catheterized. Ms. Wei was paralyzed and mentally traumatized, requiring others' constant care. After suffering in pain for more than a year, she died on April 30, 2007.

Wei Hua (before the persecution)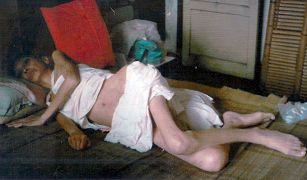 Wei Hua after being tortured in the mental hospital
The Chinese Communist Party's brutal persecution of people who believe in "Truthfulness-Compassion-Forbearance" has already lasted for close to eight years and continues to this day. In March 2007, CCP Minister of Public Security Zhou Yongkang issued an order to start a new round of brutal persecution of Falun Gong nationwide. Immediately afterwards, in many areas of China such as Changchun City in Jilin Province, Daqing City in Heilongjiang Province, Shijiazhuang City and Yantai City, there were massive arrests of many practitioners. In the face of the CCP's aggressive persecution, Falun Gong practitioners have not flinched or faltered. They have continued to clarify the truth to the world's people to let them clearly know good from evil, position themselves righteously, and have a good future.