The Persecution of Mr. Wu Baowang from Heilongjiang Province Before Passing Away in 2002 (Photo)
(Clearwisdom.net) Falun Dafa practitioner Mr. Wu Baowang was from Qingling Township, Shuangcheng City, Heilongjiang Province. On May 17, 2002, while he was detained in the Shuangcheng City No. 2 Detention Center, the police force-fed him with concentrated saline solution. He went into coma and passed away that same day. (This has been previously reported.)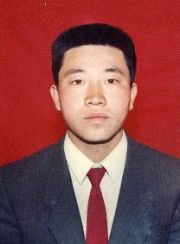 Photo of Practitioner Wu Baowang
Mr. Wu Baowang, 36 years old, was from Qingling Township, Shuangcheng City, Heilongjiang Province. Since beginning Falun Gong practice, he strictly disciplined himself according to the principles of Truthfulness, Compassion, Forbearance and was always ready to help others. The road in front of his house was difficult for pedestrians to walk on, so he took the initiative and fixed the road himself. The villagers all praised him as a good man.
Since the Jiang Zemin's regime began to persecute Falun Gong, he had gone to Beijing three times to appeal for Falun Gong. Because of this, he was detained for over nine months and later was sent to forced labor for one year. After his release, police officers and the village Party secretary broke into Wu Baowang's house at about 10:00 p.m. on April 19, 2002. They illegally arrested him and incarcerated him in cell No. 8 at the Shuangcheng City Detention Center. Prisoner Zhen Guowei, held in the same cell, beat Wu Baowang during the first day of detention.
During his detention, Wu Baowang told the prisoners "Falun Dafa is good" and many prisoners learned the facts of Falun Gong.
To explain the facts of Dafa and commemorate World Falun Dafa Day on May 13, 2002, Wu Baowang and other practitioners detained in Cell No. 8 shouted, "Falun Dafa is good! Restore my Master's reputation. Falun Dafa has been dealt the most appalling injustice throughout the ages!" The detention center dispatched all their guards to abuse practitioners. Guard Huang Yanchun brutally beat Wu Baowang causing him to bleed from the mouth. At the same time, they handcuffed Wu Baowang with his hands behind his back, preventing him from moving freely. He even needed assistance when eating or going to the toilet.
To protest the persecution, Wu Baowang went on a hunger strike. On May 17, 2002, his fourth day on the hunger strike, guards dispatched four prisoners nick-named Xiao Guang, Xiao Wei, Pangzi, and Lao Wang to forcibly lift up Wu Baowang, who had completely lost his ability to move, and carried him out of the No. 8 Cell. They took Wu Baowang to a dark, empty house at the back of the detention center and force-fed him. Actually, they had no medical knowledge. They fed Wu Baowang with a hot concentrated saline solution. The prison doctor did nothing but laugh.
Once back in his cell, Wu Baowang bled from the mouth and was in a coma. Within only half an hour, they had tortured him to the brink of death. Wu Baowang lay on the bed, his eyes motionless, staring straight ahead. The prisoners called doctor Liu Hongzhi, but Liu said he was fine. Many prisoners said, "He is just a veterinarian, not a doctor. "
At about 4:00 p.m., with the request of all prisoners in Cell No. 8, guards again dispatched the four prisoners who had force-fed Wu Baowang to carry him to a hospital. Within one hour Wu Baowang was sent back, but was still in a coma, and there were scars on his legs. Policeman Li Huaxin said Wu Baowang was only pretending to be injured. But the force-feeding tube had actually damaged his esophagus and airways. At 8:00 p.m. Wu Baowang was no longer able to inhale, and could merely exhale. The prisoners in the No. 8 Cell strongly urged the on-duty police officers Wang Jianwen and Na to send Wu Baowang back to the hospital.
On the second day, Wang Jianwen called four prisoners out of their cell. When they returned they said Wu Baowang had died the night before. The police also demanded they lie and tell people that Wu Baowang had died of heart disease and demanded that they not mention the force-feeding. The four prisoners are Ma Chengjiu, Li Guanghui, Zhen Guowei, and Zhuzi (from Linjiang Village).
Persons and organizations responsible for Wu Baowang's death:
Li Xueliang from Shuangcheng City Government
Wang Xiangyu from Shuangcheng City Police Department
Zhang Guofu and Jiang Hongwei from Shuangcheng City 610 Office
Liu Qingyu, Liu Hongzhi (prison hospital), Huang Yanchun and Wang Jianwen from Shuangcheng City No. 2 Detention Center
Party Secretary, mayor of the township, secretary of Political and Judiciary Committee, Qingling Township Police Station in Shuangcheng City
Head and policemen at the Qingling Police Station
Policemen and Party secretary at Qingling Township in Shuangcheng City
Prisoners (only nicknames): Xiao Guang, Xiao Wei, Pangzi, Lao Wang
June 7, 2007