Asian-American Press: Minnesota Falun Dafa Practitioners Celebrate World Falun Dafa Day (Photo)
May 26, 2007 | By Jim Battaglini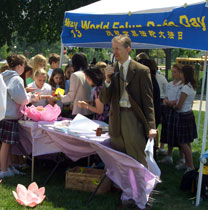 Minnesota Falun Dafa practitioners celebrate World Falun Dafa Day
ST. PAUL (May 11, 1007) - "Truthfulness, Compassion, Forbearance," were the words waving on a large banner outside of the State Capitol Building in St. Paul on May 11th. The event was World Falun Dafa Day, where local practitioner celebrated and commemorated simultaneously with similar events in 80 countries around the world.

Falun Dafa, also known as Falun Gong, was introduced to the public by Master Li Hongzhi in 1992. Master Li's Birthday on May 13th is recognized as Falun Dafa Day.

Falun Dafa is a meditation and exercise system for cultivating the mind and body and has a heavy emphasis on improving one's moral character through adherence to the principles of Truth, Compassion and Forbearance. "Falun" is a Chinese word meaning "law wheel", and "Dafa" means "great way".

The event began with a proclamation letter from St. Paul Mayor Chris Coleman, read by policy director Nancy Homans, proclaiming the month of may to be Falun Dafa Month in honor of Truthfulness, Compassion, Forbearance. Which was followed by a letter of support from Minneapolis Mayor R. T. Rybak.

Throughout the day practitioners demonstrated the meditation exercises, handed out flyers and also showed visiting school students how to fold paper lotus flowers. "The lotus flower represents purity in traditional Chinese culture", said practitioner Sophia Lung. Many passers by visiting the state capitol, stopped by to learn about Falun Gong and the persecution still going on today in mainland China.

"Today is not only for celebrating the anniversary of Falun Dafa's public introduction; it is also to let the world know about the persecution of Falun Dafa practitioners that is still occurring in China and to remember those who have been tortured to death for holding on to their belief," said local practitioner Meiling Lee.

Falun Dafa was initially supported by the Chinese Government for its health benefits and its teachings of morality. The Chinese government banned it as a [slanderous word omitted] in 1999. However, the practitioners claim the government banned the practice when a census found that there were more Chinese citizens in practicing Falun Dafa than were in the Chinese Communist Party.
The Chinese government claims that practitioners have sabotaged or taken over television stations and performed other crimes in the name of Falun Gong. They have gone to great lengths to vilify Falun Dafa and thousands of practitioners have been reportedly arrested, tortured or killed.
"The crackdown against Falun Gong in China since July 1999 is the most concerted persecution of an identifiable cultural group since the Cultural Revolution," said Dr. Kirk Allison, director, Human Rights and Health Program, University of Minnesota, who was a featured speaker at the event.

Allison said that one of the most disturbing aspects of the persecution of Falun Gong has been the relatively recent allegations of organ harvesting from imprisoned practitioners. China admittedly harvests organs from executed prisoners, and the Falun Gong allegations accuse China of taking organs from live prisoners that are blood typed, tissue typed, and then killed for their bodily organs that are sold for transplant for large sums of money.

This accusations were investigated by former David Kilgour, a former Canadian Member of Parliament and Secretary of State for the Asia Pacific, along with David Matas, an international human rights attorney. The investigation, entitled "Bloody Harvest," contains 33 lines of evidence that support the allegations. One of the most significant is the incredibly short waiting time advertised by Chinese hospitals for locating organs for transplant, one week in many cases.

David Kilgour says this allegation, "If true, would represent a grotesque form of evil which, despite all the deprivations humanity has seen, would be new to this planet".

Dr. Allison, who last September testified before a House subcommittee on this issue, and recently joined a global investigation team on organ transplantation in China, encouraged Minnesotans to take action regarding this situation by contacting Senators and Representatives at the state and federal level, and to express their concern with regard to US-China relations and also Minnesota-China relations.

World Falun Dafa day was also celebrated at Northrop Square at the University of Minnesota on May 3rd. Dr. Kirk Allison along with Dr. Barb Frey, director of the Human Rights program in the college of liberal arts, and history professor Richard Kagan from Hamline University, all of whom are prominent Human Rights advocates, publicly condemned the persecution of Falun Gong at the hands of the Chinese Communist Party.
http://www.aapress.com/index.php?subaction=showfull&id=1180061304&archive%20=&start_from=&ucat=3