Virginia: Spreading the Grace of Falun Dafa at the Annual Asian American Celebration in Richmond (Photos)
(Clearwisdom.net) On May 5, 2007, Falun Gong practitioners participated in the Annual Asian American Celebration in Richmond, Virginia. This was the fifth time practitioners have participated in this event since 2002. Many Asian organizations and groups, including many Chinese people take part in the celebration.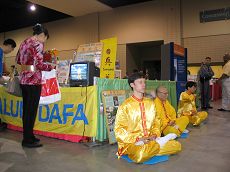 Falun Gong practitioners' booth to spread Falun Dafa and explain the facts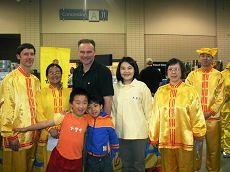 Group photo of Falun Gong practitioners and Virginia Governor Tim Kaine (third from left)
The practitioners set up their booth as they did in previous years. They were also invited to perform waist drums on stage. Many Chinese people actively went to the practitioners' booth, greeted them and listened to truth-clarification attentively. More and more people came to understand and like Falun Dafa. In 2002, practitioners were allowed to put one poster about Falun Gong in the event and to perform on stage as a part of the Chinese community. After continuous truth-clarification, practitioners were able to set up a booth to represent Falun Dafa and were invited to provide programs and help organize the event celebration.
Before the event, practitioners proposed to the organization committee to demonstrate the Falun Gong exercises on stage, but were declined. They then demonstrated the exercises in front of the booth. Unexpectedly, the Chinese person in charge of the event suddenly decided to invite practitioners to demonstrate the exercises on stage as the final program for the celebration activity. She told the practitioners, "I observed you for a long time and think that Falun Gong is unique and very good, including in form, music, and meaning. Today's programs on stage are good, but most are noisy. Falun Gong exercises are serene, auspicious and suitable as the final program for today's event."
Practitioners introduced that they often participate in community activities, especially in the Chinese community, such as Chinese schools, dancing teams, and choruses, etc. They also invited Chinese people to attend practitioners' activity in spreading Chinese traditional culture. Local people experience the grace of Falun Dafa through such activities.