Brutal Persecution at Beijing Women's Labor Camp; Zhang Lianying Remains Detained (Photo)
(Clearwisdom.net)
April 20 was the birthday of Falun Dafa practitioner Ms. Zhang Lianying. It also marked one month since she suffered severe internal bleeding in the head after being brutally beaten at the Beijing Women's Labor Camp. Ms. Zhang's husband Niu Jinping and her three-year-old daughter Qingqing repeatedly went to the labor camp to try to visit Ms. Zhang, who is detained at the Tiantanghe Hospital inside the labor camp. The labor camp is located at 12 Weiyong Road, Tiantanghe, Huangcun Township, Daxing District, Beijing. Mr. Niu again requested that Ms. Zhang be released unconditionally, and that the perpetrator of the crime be brought to justice.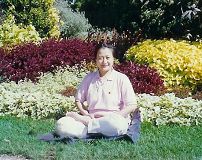 Falun Dafa Practitioner Zhang Lianying
They waited from morning until after noon, yet the labor camp refused their visitation request. Qingqing had a piece of case that she brought to her mother for her birthday.
With no other solution, Mr. Niu held Qingqing in front of the gate of the labor camp and clarified the facts about the persecution to family members of those detained in the labor camp who were waiting for their visitation time. He spoke of how Zhang Lianying's physical and mental health both benefited from practicing Falun Gong, how she became a more considerate person, and how she was persecuted because she believed in Truth, Compassion, and Tolerance.
Zhang Lianying, 46, is a university graduate. She was an official with the China Everbright Group and a registered accountant. She lived at 2-203, 7th Building, Liufangnanli, Chaoyang District, Beijing. She began practicing Falun Dafa in August 1997. From then on until July 1999, she practiced diligently. Everyone around her, from her boss to her coworkers, all said that she had changed to a new person. She was healthier, and was more willing to take on difficult tasks at work. The officials of subsidiary companies under Everbright saw that since Zhang began practicing Falun Gong, she set high requirements for herself and refused many gifts or bribes. They said, "We now know how capable Falun Dafa is!" One accounting staff said, "If all company officials learned Falun Dafa, things would be much better." During these two years, all Zhang Lianying's chronic diseases were cured. She did not take one day of sick leave during that time.
From practicing Falun Dafa, Zhang understood the true purpose and meaning of life. She followed the standards of Truthfulness, Compassion, and Tolerance. When her workplace was assigning housing, she had the qualification to obtain a large unit of over 120 square meters (1,290 square feet). However, she treated herself as a practitioner and gave the unit to another coworker who needed it more. She lived in a small unit just over 40 square meters (430 square feet) in size.
In her article "The Path Returning Home," (http://www.clearwisdom.net/emh/articles/2002/4/21/21205.html) Zhang wrote, "However, on the night of July 20, 1999, everything turned around. My supervisor laid me off in order to investigate me and forced me to turn in my Dafa books. I couldn't understand it. I was still me. One day there was praise everywhere. The next day I was cast down, never to get up!"
During the eight years of brutal persecution, Zhang has been tortured and persecuted many times. On June 14, 2005, when Zhang was at home with her baby girl, who was still nursing, she was taken away by more than ten policemen from Xiangheyuan Police Substation of Chaoyang District. The police broke into her home. She was sentenced to serve in a labor camp. She was tortured at both the Assignment Center of the Beijing Labor Camp and the Beijing Women's Labor Camp. In the last several months, she was detained at the Central Training League of the Women's Labor Camp. The Central Training League is the most evil place at the labor camp. All the detainees there are put in two-square-meter (21.5 square feet) cells with no windows. They have to eat, drink urinate, and defecate there. The convicted criminals, under the encouragement of the guards, often beat Zhang brutally. They acted like beasts to torture her. They tied a rope around her neck so tight that she almost suffocated. Then they punched her head, while keeping the rope tight. Because Zhang refused to wear the labor camp's uniform, insisted on her hunger strike, and repeatedly said out loud, "Falun Dafa is great," they tortured her with this method for a total of nine times. Twice, she was chocked so severely that she wet her pants.
On the morning of March 20, while being chocked, Zhang Lianying was again beaten severely in the head by a few inmates under the guards' instructions. She was in a coma and was sent to Renhe Hospital in Beijing. The warden of the labor camp tried to cover up the real reason of her internal bleeding in the head. The doctors said, "Zhang Lianying's bleeding affects a large area and is very serious. It would take about 12 days to stabilize her condition. In addition, there is some stagnant blood that was difficult to clear out. This could lead to other problems, such as paralysis or epilepsy."
Despite the doctors' diagnosis, Beijing Women's Labor Camp discreetly moved Zhang, who was still in critical condition, to Tiantanghe Hospital inside the Beijing Women's Labor Camp. In addition, the Beijing Women's Labor Camp also rejected several requests by Zhang's family members for her release.
When the people waiting outside of the Women's Labor Camp heard what Niu Jinping said, they were all shocked.
The guards at the Beijing Women's Labor Camp closed all gates out of guilt. They tried to block Niu Jinping and his daughter from entering the labor camp. Niu Jinping made a strong case to meet with the director of the labor camp. It wasn't until noon that a staff person told Niu that the director would meet with him on May 18.
The long delay before the meeting with the director of the labor camp causes concern. Zhang's family members suspect that more bad things are being planned against Zhang. They ask all kind-hearted people to support Zhang Lianying and her family, to stop the evil deeds of the people at the Beijing Women's Labor Camp.
| | |
| --- | --- |
| Luxurious Beijing Women's Labor Camp | Tiantanghe Hospital inside Beijing Women's Labor Camp (where Zhang Lianying is currently detained) |
Beijing Women's Labor Camp: 12 Weiyong Street, Tiantanghe, Huangcun Township, Daxing District
Beijing Women's Labor Camp Administrative Department: Leader surnamed Shi. 86-10-60279755 extension 5819
Beijing Women's Labor Camp Concentrated Training League: 86-10-60278899 extension 5810
610 Office of Xiangheyuan Area, Chaoyang District Beijing: Yang Yiguo 86-10-64671059
Beijing Chaoyang District Xiangheyuan Police Substation: Deputy Director Wang Qing and policeman Zhang Weimin, both are specifically charged to persecute Falun Gong practitioners: 86-10-64660050, 86-13501066384(Cell)
Beijing Chaoyang District Liufangnanli Street Committee: Zhao Yuwang 86-10-64645203