Queensland, Australia: The Divine Performing Arts Troupe Touches the Hearts of Distinguished Guests in Gold Coast (Photos)
March 24, 2007 | Chen Xinning, Clearwisdom reporter
(Clearwisdom.net) Following the successful conclusion of two performances in Brisbane, on March 18, 2007,the Divine Performing Arts Troupe once again touched the hearts of more than one thousand audience members with its exquisite and unique performance staged at Conrad Jupiter's Theatre in Gold Coast, the second largest city in Queensland, Australia. The New Tang Dynasty Television's (NTDTV) Global Chinese New Year Spectacular drew to a perfect ending in a sea of warm and enthusiastic applause and high praise.
The Spectacular gains appreciation from Queensland politicians
The same night, Gold Coast Mayor Ron Clark and his wife Helen, Brisbane Minister of Communications Cr. Graham Quirk, Queensland Provincial Councilor Ray Stevens and many more distinguished guests watched the NTDTV Chinese New Year Spectacular show and highly praised the outstanding performance of the Divine Performing Arts Troupe.
Gold Coast Mayor Ron Clarke and his wife Helen
The mayor said in an interview that the performance was fabulous, "it was very entertaining, very scenic, beautifully done, beautifully presented." He thought "the scenes the cavalcade of the end of every act, it's just perfect, and the costumes were superb." He said, "It's as I would have thought Chinese culture was and as I've experienced Chinese culture. I think it just epitomized what I thought Chinese culture was about, was the beautiful precision, the peace, the costumes, the color, all personified China to me. He said, "You'd like those sorts of shows from all over the world, and this is just a very perfect presentation." "This to me is a perfect show...It's all just top class."
The mayor's wife added that each performance was wonderful, superb!
Brisbane Minister of Communications Cr. Graham Quirk
Brisbane Minister of Communications Cr. Graham Quirk said, "I found it an outstanding performance, the Divine Performing Arts" group are certainly a very very talented group of people from North America." He thought "there has been a variety of performance." He said, "I was little unsure when I arrived as what to expect but it's certainly been an outstanding performance from a performing art's point of view and also I think it has brought some of the story and history of China and Chinese Culture also to the audience." "It clearly there has been a message within the performance as well for people."
Queensland Provincial Councilor Ray Stephen
Queensland Provincial Councilor Ray Stephen said that he felt that the show was really wonderful, full of bright color and graceful dancing. He felt honored to watch the performance. Among his favorites on the program was the singing of soprano Jiang Min, and the dance, "Forsythia in Spring." He said that he truly appreciated every performance, particularly the erhu solo, which was unspeakably wonderful.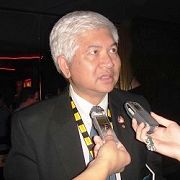 Queensland Vietnamese community leader Mr.Bui
Queensland Vietnamese community leader Mr. Bui said, "The best things about the show is I think it brings back quite a lot of culture of Chinese, that we heard about in history and also it can bring some of the new current concerns of the people living overseas about what's happening in China, the Falun Gong. The lady got killed because she practiced Falun Gong [refer to the dance "To the Rightful Place"]. That is something new and I think that it is good to use this sort of concern to bring the people in Australia, to let them know about what is happening in China."
The audience responds enthusiastically
The audience, dressed for this gala occasion, was full of hope and expectation. During the performance, they were enthralled by each program, and from time to time, there was a tangible resonance and interaction with the performers. The atmosphere was harmonious and pleasant.
When the host and hostess invited the audience to answer questions, the responding voices were always particularly vibrant and enthusiastic. When the performers did highly difficult movements, the audience would give them thundering applause.
In the performance, "To the Rightful Place," when the good person is raised up and the bad people meet with heavenly punishment, the audience could not help applauding and cheering, expressing their recognition of the law, "One Reaps What One Sows."
Many audience members said they did not know what kind of show they were going see that evening, and neither did they have any expectations, but they had a strong curiosity and interest. After watching the performance, they felt that "absolutely wonderful" was not adequate to describe the exquisite artistic level of the Divine Performing Arts Troupe. Looking at the entire performance from many angles, including the conception of the performances, the dance skills, costumes and props, inner spiritual meaning, it was all extraordinary -- far beyond the audience's imagination, and it also touched their souls.
The audience said that they gained a deeper understanding of traditional Chinese culture through watching the Spectacular. The stories in the performances were very meaningful.
A woman named Anne said, "I like all of them, very enjoyable. Especially the certain ways they dance, everyone were smiling, make me feel very happy."
An elderly woman said she felt quite good after watching the show. She said, "I will tell my daughter in Sydney to go and see the show."
Rita was very fond of the dance, "Rainbows". She said that when the ribbons floated, they were "so beautiful, it was relaxing, calming, just so great."
During the intermission, one couple, after seeing the first half of the show, said that they were surprised at the Divine Performing Arts Troupe's performance. The performers profoundly expressed Chinese culture, but they were from the United States. The couple said, "We are looking forward to the second part, all the performance are good. Full of surprises, they are really good."
A man named Stuart said, "Visually an absolute delight, the costumes and the scenery, and the choreography is just stunning. I mean my immediate reaction to seeing it as the curtain went up was that the costumes are so brilliant that they just strike the eye right away, I'm very impressed with it. " He thought "it's given me a much greater interest in genuine Chinese culture, very much more than I would have had before." He said, "I've never seen anything quite like this, it's absolutely marvelous."
Esther and Frances
Esther and Frances are two middle-aged women. They thought that the performance "is a very gentle show, something that we westerners are not used to, also [what] I like is that the girls are covered, no boots, no legs, very very traditional, very very beautiful."
Ms. Zheng from mainland China said that the performance reflected the ancient way of life. She enjoyed the dance describing the Dunhuang grottoes, and the dances from Tibet and Mongolia. Through these dances, she gained a sense of the long history of Chinese culture.
Ms. Ye, Chinese high school teacher
Ms. Ye, a Chinese high school teacher from Taiwan, brought two of her students to watch the Spectacular. She felt that the show was very educational, and fully showcased traditional Chinese culture. She said she would come with more students next year.
A sales manager from 106.5 Radio Station in Sunshine Coast said that he was very pleased to have such an opportunity to appreciate the exquisite, rich and profound Chinese culture, far different from his previous impression of Chinese culture. He said it was like being in a different, beautiful world.
The performance has rich and profound inner meaning, deeply touches people
Many interviewees mentioned that the song, "Candlelight" sung by Bai Xue moved them to tears and inspired them spiritually. Public Relations Manager Elfi Massey said, "Let facts and truth speak out" -- this is what he gained from the performance. He also said the performance was rich in content, yet it did not force information on the audience, but allowed people opportunity to think for themselves.
Audience member Dianne Payton said excitedly that she did not know how to express her feelings, it was a perfect show. The lyrics for "Candlelight" moved her deeply. She felt that the song expressed the following: "Truth is Compassion, let's find the truth."
Dianne also said that the performances about Falun Gong were very good. What they displayed was compassion, which is what today's world needs most. She felt that the Falun Gong practitioners' performance reflects their kindness. She took some flyers about Falun Gong, saying that she could not understand why the persecution of Falun Gong is happening in mainland China.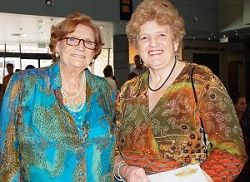 Audience members Lorma McKinnon and Dianne Payton
Dianne's mother, Lorma McKinnon, said that they were both moved. She and her daughter saw the news about this performance and decided to come see it. It turned out to exceed her expectations. Many sections of the show displayed stories of Gods and Buddhas, telling us the origin of life. She thought it was very important. If things are truly as what the song tells, finding the truth before the disaster comes, we should know what we need to do. She believed that good people will have good fortune.
A consul who did not want to reveal his name said that the performance allowed him to learn about the real China. He said that China looks calm on the surface, but there are so many stories little known to the public. He said that this is truly a performance with extraordinary meaning.
A Westerner who was deeply moved said during the intermission, when she listened to Ms. Jiang Min's singing "Why Refuse?" she kept shedding tears. She said that she had to keep her handkerchief out when listening to her songs. "Tissue just in case, when listen to her song."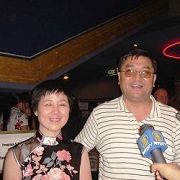 William and his wife, business persons from Shanghai
Businessman William and his wife from Shanghai said the performance was terrific, showcasing the rich and profound traditional Chinese culture. William said he was also moved by Falun Gong, and he wanted to learn more about Falun Gong.
The Divine Performing Arts Troupe has concluded its performances in two cities in Queensland, and will continue its Australian tour in Canberra, Melbourne and Sydney.