NTDTV New Year Spectacular Receives High Praise in Dallas (Photos)
February 11, 2007 | By Zeng Hong, Minghui Reporter in Dallas
(Clearwisdom.net) The touring NTDTV 2007 Chinese New Year Spectacular gave four shows in Dallas, Texas on Feb. 4th and 5th. More than five thousand people enjoyed the depiction of the divine and profound culture of China in the Eisemann Center in Richardson. Many people said, "Wonderful! Great! Please come back next year!"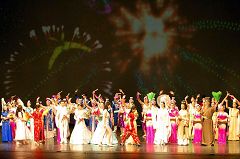 More than five thousand people enjoyed the four shows' depiction of the divine and profound culture. Artists of the Spectacular answer curtain calls.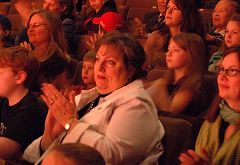 Wonderful performance wins applause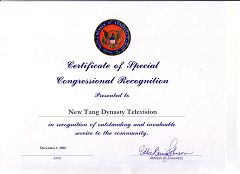 Certificate of Special Congressional Recognition issued by Congresswoman Johnson.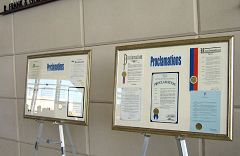 Chinese New Year Spectacular receives more than ten proclamations in Dallas area.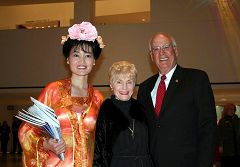 A picture of Mayor Bill Whitefield, his wife and an NTDTV employee.

Waves of Praise
The audience was enthralled with admiration of the colorful costumes, beautiful dances, spectacular backdrops and touching music.
An elderly gentleman said, "The backdrop is so unique! The costume is gorgeous! All performers are very talented!" A woman wrote in the survey, "It is a surprisingly top-class performance!"
A local resident said, "It is so magnificent! We need more cultural exchanges of this type!" A lady from from Iowa praised the beautiful dance and music.
Another gentleman kept saying, "Great! Great! Great performance! It is the best I have ever seen!"
Chinese-Americans also sang high praise of the shows. A Chinese businessman said, "Your show is great! It is very unusual to see such a large scale dance performance!" A Chinese lady kept saying, "Very professional!"
A local resident especially appreciated the narration in both Chinese and English. The English version of lyrics was displayed on the backdrop. Most people said they loved everything on the program. It would be hard to say which one was the best. One said, "(I liked) everything, costumes, backdrop. You are the best!"
Learning the True Culture of China
The Chinese values of loyalty and filial piety were embodied in every performance, such as "The Loyalty of Yue Fei", " A Dunhuang Dream,", "Snowy Mountain, White Lotus". The Songs struck a chord at the bottom of everyone's heart.
A lady said, "I have been to China. But I have learned more from this show tonight than anything I have experienced, heard and seen."
A lady and her friend like Chinese culture a lot. She said, "I know the Chinese culture is rich. I want to learn about Chinese culture. I have seen shows by other Chinese art groups, but today's show gave me surprising findings. I seem to have felt the true Chinese culture." She learned about Falun Gong from the songs. She said, "China should give the people more freedom. It is the freedom that everyone should have." She admired NTDTV's effort to provide unrestricted information to Chinese in China and overseas. She said, "You are great! Keep up with your effort!"
Another said, "Great! It is very influential! It is a combination of traditional and modern culture. Very unique! I like it!"
Seeking One's True Cultural Identity
Many local Chinese went to the show and felt the uniqueness of the show. Many of them felt the root of their culture. A Chinese lady told the reporter, "I am very proud of this show!"
A young lady from Shandong Province of China said, pointing at her girl friend, "I thank my friend for recommending this show to me! It is great!" When asked what she thought about Falun Gong, she said, "I don't know much about Falun Gong. Such a show can't be found in China. But it is a free place here. I don't think there is anything wrong with it."
An Asian American girl told the reporter, "I liked every performance! The most touching is the second song by Jiang Min, 'The Vows of Old.' It touched my heart. I love Falun Gong! I knew about Falun Gong from news reports. I see Falun Gong in today's show. It is great!"
Mr. Xiao from China had watched the NTDTV New Year Gala in Houston last year. He said this year's show was even better than last year's: "My whole family of five came to the show. My granddaughter, daughter, son-in-law and my wife all came."
A Chinese man told the reporter, "It is a combination of traditional and contemporary Chinese culture plus the essence of the Falun Gong spirit. I think it is a very fresh look, an inspiration to the Chinese."
Recognition by Political VIPs in Dallas
Political VIPs in Dallas sent congratulations and recognitions to express their appreciation for NTDTV's effort to spread the traditional Chinese culture, promote unrestricted information flow and help integrate Chinese Americans with the mainstream society. They sent greetings to local Chinese through NTDTV's show and wished Chinese Americans a peaceful and happy new year.
Senator Kay Bailey Hutchison said in her greeting letter, "The richness and diversity of the Chinese culture, as preserved and extended in the United States, are great treasures to be shared by all of our citizens. I commend the performers of the 2007 Chinese New Year Spectacular for contributing to New Tang Dynasty's efforts to familiarize the Western World with traditional Chinese values."
Congressman Pete Sessions attended the VIP reception of NTDTV. He said that China had a long history of thousands of years. The culture was profound and deep. He believed the show in Eisemann Center would allow them to experience the beauty of it. He encouraged all to support the Chinese New Year Spectacular in every way.
Congresswoman Eddie Bernice Johnson said in her letter, "The efforts made by New Tang Dynasty Television (NTDTV) to enhance the level of understanding and tolerance between Chinese and Western societies are truly commendable. Efforts such as yours are what will help to bind our community together."
Dallas Mayor Laura Miller was very happy the Chinese New Year Spectacular came to Dallas. On behalf of the Dallas City Council, she announced Feb. 4th and 5th as Global Chinese New Year Gala Days." She said in the proclamation, "New Tang Dynasty Television's (NTDTV) mission as Chinese Americans is to work for a better tomorrow where more people can enjoy peace and freedom and live harmoniously among different races and beliefs; The NTDTV Chinese New Year Spectacular promotes traditional Chinese culture in the form of arts, fosters understanding between Chinese and Western cultures and provides an exchange platform for Chinese communities worldwide and those interested in Chinese culture; And the NTDTV Chinese New Year Spectacular assists Chinese people outside of China to adapt and assimilate to mainstream society and contributes to pluralism and free flow of information in the Chinese-language media."
Mayor Bill Whitefield of the City of McKinney said he wished everyone a new year of success, prosperity and happiness on behalf of citizens of McKinney. Mayor Whitefield and his wife watched the New Year Spectacular.
The City of Plano and City of Richardson, the two cities with the largest Chinese communities in Dallas, also issued proclamations to the Chinese New Year Spectacular.
Proclamations were also issued by the Cities of McKinney, Frisco, Allen, Addison, Garland, Mesquite, Arlington and Euless.