Taiwan: Grand Parade Held In Taichung Supporting 30 Million Withdrawals From the CCP (Photos)
(Clearwisdom.net) Since the publication of the Nine Commentaries on the Communist Party in November 2004, more and more Chinese people have formally quit the Chinese Communist Party (CCP) and its affiliated organizations. To date, nearly 30 million people have quit. On December 1, a grand parade was held in Taichung to raise public awareness of this great tide of quitting the CCP and supporting the people in China who wish to quit the CCP.
The organizers--the Global Service Center for Quitting the CCP, and cosponsored by the Taiwan Association of Victims of Investing in China--held a press conference in Sun Yat-Sen Park. More than 4000 people attended these activities. On behalf of the president of the Taichung City Council, council secretary Lin Yao-Chen attended the press conference and gave a speech. City council member Liu Kuo-Jung and director of the Taichung Youth Club, Lai Chen-Cheng, also voiced their support.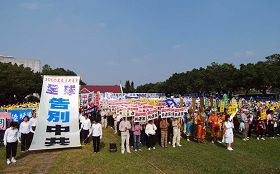 Rally in Taichung supporting 30 million withdrawals from the CCP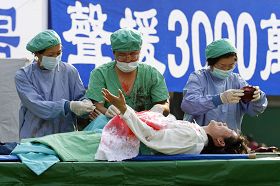 Reenactment reveals the CCP atrocities of harvesting organs from living Falun Gong practitioners
Boycotting Transplant Trips to China
Lai Chen-Cheng is the director of the Taichung Youth Club, and he started to have kidney dialysis eight years ago. After someone recommended that he go to China to have a kidney transplant, he did an investigation and learned that Chinese hospitals harvest kidneys from executed prisoners for profit. Because he believes that it is immoral to harm another life for one's own life, he decided not to go to China for a transplant.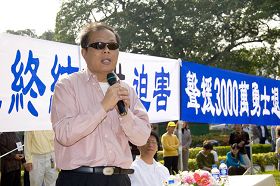 Lai Chen-Cheng, director of Taichung Youth Club
Mr. Lai said that he was shocked when he learned that the CCP harvests organs from living Falun Gong practitioners. "Such atrocities are to be condemned by Heaven." Lai stated. Regarding the quitting the CCP movement, he said, "While people often think that isolated activities can do no harm to the CCP as it is so powerful, we now have witnessed that such isolated activities have now turned into an unstoppable tide of quitting the CCP. Justice will prevail."
Mr. Lai also expressed his respect to the parade participants, "Your courage and perseverance is the hope of the Chinese people. Let them know that people in Taiwan support them. Let Chinese people know through The Epoch Times that there are many people around the world who support them."
Disintegrating CCP Brightens the Future of China
Taichung City Council member Liu Kuo-Jung said, "The CCP uses tax payers' money to buy weapons and missiles to bully Taiwan and suppress Chinese people in order to maintain its regime. It regards anyone with free will as its enemy. The persecution of Falun Gong practitioners who follow the principles of Truthfulness-Compassion-Forbearance reflect its weakness. I hope that more Chinese people will step forward to denounce the CCP. The people's will is more powerful than tanks and atomic bombs. Only when all Chinese people denounce the CCP can China have a good future."
| | |
| --- | --- |
| Taichung City Council secretary Lin Yao-Cheng | Taichung City Council member Liu Kuo-Jung |
CCP Atrocities Shock the Public
It was a sunny day and many Taichung citizens watched the parade. Upon seeing the atrocities of the CCP revealed by the parade, many were shocked and found the persecution inconceivable.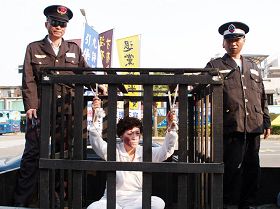 CCP torture method reenactment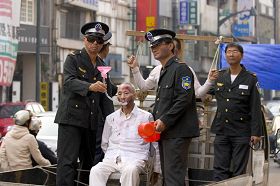 CCP torture method reenactment
Looking at the parade procession, three young girls shouted, "Are these real? Are they really happening in China? They are horrifying and the perpetrators are so brutal."
Ms. Li works in a fashion store. She said that she didn't know the persecution was so brutal. "It seems that the CCP doesn't treat people as human beings. It is so shocking." She said.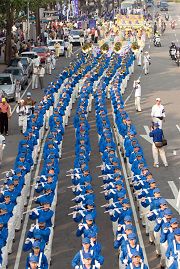 The Divine Land Marching Band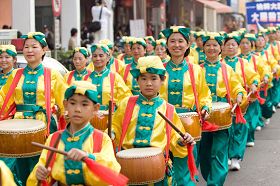 Tang Drum performance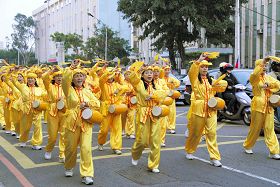 Waist Drum performance
A passerby said that he had seen a grand quitting the CCP parade and many Falun Gong posters as well at Quitting the CCP Service Centers in Hong Kong. "When I went to Hong Kong to visit my relative, I saw many Chinese tourists viewing those posters. Taiwan's media should report more on the CCP's atrocities of harvesting organs from living Falun Gong practitioners."
Ms. Xie brought her family members to the park to relax and happened upon the press conference. She said that she knew about the persecution of Falun Gong. "Every one has the freedom to choose his or her belief and all religions encourage people to be good. The CCP should not have banned Falun Gong."
An older lady who came from Chongqing was very happy to see the parade. She said, "I am so lucky to see this grand event before I go back to China next week." At the rally site, she quit the Young Pioneers and said that she would finish reading the Nine Commentaries and Falun Dafa truth-clarifying materials before she goes back. When she learned that a Falun Dafa experience sharing conference would be held in Taichung, she said that she wanted to attend.
Mr. Xu is a frequent visitor of the park. When he saw this parade, he said, "This is a good approach to promote human rights. All the countries around the world need morality and conscience."
While the Chinese economy appears to have been growing quickly in the past several years, corruption and civilian struggles to safeguard their basic rights are happening every day and everywhere in China. Numerous signs show that China is a boiling pot, while the CCP is trying all means to suppress social complaints and dissidents. According to a source from Guizhou Province, quitting the CCP is becoming very fashionable in China and it is very popular among the general public and CCP officials.
30 million withdrawals marks a new milestone. The CCP, which is a terrorist organization which opposes heavenly principles and human moral standards, will soon become history.