A Student from China: "Next time I will bring all my friends." (Photos)
December 28, 2007 | By Minghui reporter Zheng Haishan
(Clearwisdom.net) December 25 marks the most important holiday celebration in Western society - Christmas. On this day, New Tang Dynasty Television (NTDTV) presented its ninth "Holiday Wonders" show at the Beacon Theatre in New York. The show was a sell out, and was enthusiastically received. Many people with a Chinese background said that the "Holiday Wonders" created a Christmas celebration that belongs to the Chinese people.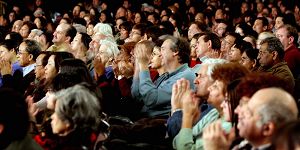 At Christmas, the Chinese and Western audience was captivated by the NTDTV Holiday Wonders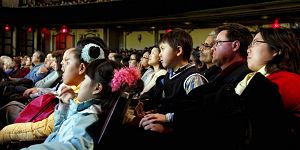 At Christmas, the Chinese and Western audience was captivated by the NTDTV Holiday Wonders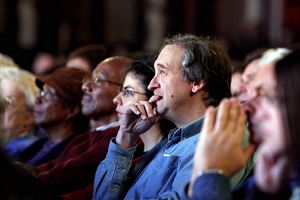 At Christmas, the Chinese and Western audience was captivated by the NTDTV Holiday Wonders



David Isaacs (right), deputy director of a packaging company in New York, thought the show was very unique, not only because it brought the joy of celebration, but also because it inspired people through the spirit of sincerity, strength and confidence conveyed throughout the performances. "While watching the show you feel very warm inside, as if you have been given a present."



The CEO of Costco in New York, Judy Couvertier (right) felt the show was very beautiful. She said the colors were bright and attractive, along with the beautiful costumes. It was filled with the festive joy of holiday celebrations, and really touched one's heart. She also said that she learned many things from the show, including the power of working together. Judy's husband, Mr Israel Couvertier, said the show reflected universal values, and was a great way to celebrate Christmas.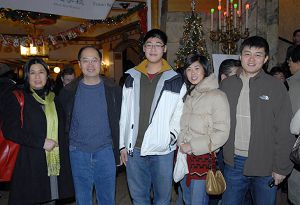 The Liu family of five attended the show. (Ron Liu is second from left, Catherine Liu, second from right). They felt the show was the best Christmas present for the children.

"I am so touched I want to cry." said a student from China
During the intermission, a student from China named Rona said to reporters, "I am so touched I want to cry." She also said she would rent a van and bring all her friends to the show.
Rona is a university student from upstate New York State who came to New York City to celebrate Christmas. She attended the show after hearing about it from friends.
"I did not imagine the show would be so good, so beautiful. You can't see this type of show in China." Rona very much liked the ethnic dances, such as the dances of the Dai ethnic minority, and Yi people. She said it is difficult to see such traditional cultural performances in those regions today, as most of the entertainment has been replaced by modernized performances.
Rona said that in China, productions of true traditional culture are being suppressed in favor of modernized shows. She felt the dance performances that truly represent the culture of the Chinese people cannot be seen. Chinese traditional culture is deep and profound, and it is a shame it is being lost.
"I feel very proud of my culture, and I'm deeply touched"
Rona said, "I really could not have imagined seeing such traditional and beautiful performances in this Western city, and the quality is so high. Our Chinese people, wearing our own ethnic clothing, in such a beautiful presentation of Chinese culture, performed on the international stage of Broadway in New York, with so many Western people coming to see it. I feel very proud of my culture, and I'm deeply touched." She also said that there are 56 ethnicities in China, each with their own exquisite dances and culture, and she hopes to see more ethnic performances in future shows.
According to Rona, as a Chinese student studying abroad, whenever celebrations arise, she felt very homesick. Her American friends all went home to celebrate Christmas, but students from China could not go home. Sometimes, the Chinese students' associations would organize some activities such as "China Night", mid-autumn festivals, or Chinese New Year celebrations, but none of the programs were of high quality.
Rona also said, "We live in a small town, and don't receive much news, so we hadn't heard of the Holiday Wonders hosted by NTDTV. I can't believe this show is so good, and everything it presents is Chinese traditional culture and the cultures of different ethnicities. I think that after my friends and colleagues come to know about it, they will definitely want to come. Next time, I will hire a van and bring them all to come and watch."
Second generation Chinese: This is a Christmas gift from dad, and the first time I have seen a cultural performance of such high quality
Catherine Liu is a student at the famous Albert Einstein College of Medicine in New York. She was born in China and grew up in the USA. She liked the show very much, particularly the dances and exquisite costumes. Catherine especially liked the elegance and gentle beauty of "Water Sleeves" and the excitement of "Drummers of the Tang Court". Catherine said her father had bought tickets for her and her two little brothers as Christmas gifts.
Catherine's father, Ron Liu and his wife, came here from China 22 years ago. His daughter was born in China, and both sons were born in America. Ron and his wife wanted their children to be nurtured with Chinese traditional cultural values, and come to understand Chinese traditional culture, art, values and ideology. Their best Christmas present for the children was to bring them to the Holiday Wonders.
Ron Liu said that during his 22 years in the US, he has seen a few Chinese cultural performances in New York, but this is the first time he has seen something of such a high standard.
"In recent years, the economics in China have been developing, but without the cultural foundation, it is unlikely to last long, and it is also difficult to gain true respect from Western society." he said.
On seeing so many American people attending the show, Mr Liu felt very glad the American public can come to understand Chinese culture through this show.