Holiday Wonders Captivates North Carolina Audience with Authentic Chinese Culture (Photos)
(Clearwisdom.net) On December 23, the Divine Performing Arts presented the Holiday Wonders show at the War Memorial Auditorium in Greensboro, North Carolina. The audience expressed its appreciation of the programs with repeated warm applause. Many of them later commented that the show gave them a flavor of authentic Chinese culture.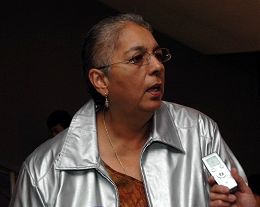 Greensboro Mayor Johnson said that the show was a wonderful experience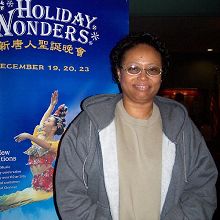 Kimberly Nyieky Brandon was amazed by the presentation of Chinese culture
Yvonne Johnson, Mayor of Greensboro, saw the show and said that it exceeded her expectations. The mayor said that she learned not only about Chinese culture but also Chinese history, and that it was a wonderful experience.
Jasmine is just 10 years old. She said that she learned a lot about Chinese culture. "My impression of Chinese culture was mostly from martial arts movies, so I learned a lot more from this show. It was so different and absolutely outstanding. The costumes were just gorgeous."
Nyieky Brandon works for The News and Record, the largest local newspaper. She has been to Hong Kong and loves Chinese culture. After seeing the show, she was excited. "I will not forget this special night." When asked which was her favorite part, Kimberly said, "All of them were wonderful. Chinese culture is so profound, and Chinese people are great. I will remember this night and hope that Divine Performing Arts will come back next year."
Regarding the Chinese culture portrayed by the show, production manager Peijong Hsieh said the following at a press conference held on December 19: "We did research on every piece in order to faithfully reproduce the history and cultural facts. From the music to the costumes to the dance movements, everything was based on literature and frescoes. One guiding principle of our production was to be faithful to traditional culture. Only truth can touch the hearts of the audience."
Leeshai Lemish, one of the Holiday Wonders hosts, said that one of the goals of the show is to send a strong message of tradition and hope. Under the reign of the Chinese Communist Party, especially after the Great Cultural Revolution, most authentic Chinese culture has been destroyed and traditional values gradually faded from people's hearts. He said, "Our show is bright and filled with hope. It can energize people and help them to explore the meaning of life."