Spreading the Fa in Bangalore, India (Part 2) (Photos)
November 25, 2007 | By Wu Shuzhi from Taiwan
Byreshawara School students practicing Falun Gong
(Clearwisdom.net)
(Continued from Part 1: http://clearwisdom.net/emh/articles/2007/11/24/91588.html)
We returned to Chitra's home around midnight, Taiwan time, and then we discussed what to do the next day. Chitra said that we could not go to the school since September 16 was a Sunday. The next morning, we took Bhagawan to Cubbon Park to practice the exercises. After the exercises and breakfast, Chitra invited us to spread the Fa in a temple in Bangalore that was built by Taiwanese people. Since most of them are Chinese, we thought that we should clarify the truth of Falun Dafa there.
Spreading the Fa in a Temple
This is a magnificent temple and cultivators have spent their entire lives here seeking self-salvation. I talked with a cultivator because I have had thoughts and experiences similar to his. He nodded his head and agreed with me when I said that human beings can only scratch the surface of the vast universe because it is so deep and has many layers. Cultivators look very small in relation to the vast universe. He thought that Falun Dafa practitioners were not ordinary and were not the same as religious people. I also told everyone there why the Chinese Communist Party (CCP) persecutes Falun Gong and about the organ harvesting atrocity.
Spreading the Fa in a Restaurant
When we left the temple it was near lunchtime, so Chitra took us to Zhonghua Restaurant. Ms. Zhong told me in Chinese that her siblings and she were part of a third-generation Chinese family living in India and have run restaurants for generations. I learned that her brother also knew about Falun Gong and we started to talk more about it. We told her why Falun Gong was initially so welcomed in China and why the CCP now tries to persecute it. Also, we explained to her the benefits that Falun Gong has on mental and physical health, and I shared my own experiences. Her eyes widened and then she agreed with us. Later, she drove us to the restaurant's other location, which was run by her brother.
This location had only been open for a week. The manager, Mr. Zhong, was straightforward and also talkative. He does not place much importance on money and it seemed as if he was looking for something spiritual. He had heard of Falun Gong before but he received some materials from the Chinese Embassy that slandered Falun Gong, and he therefore feared it. From this, we could see the poisonous effect of the CCP's lies. What the CCP is capable of is worse than terrorism.
When I talked with Mr. Zhong, I used the opportunity to clarify the truth to him. I gave him some materials including information about organ harvesting, which shocked him. While I ate, I also shared with him my understandings of the purpose of life and about how Falun Gong was the best method of cultivation, and he agreed with what I said.
That concluded another day, and Chitra told me that we should start at 6:00 a.m. the next morning because it would take at least three hours to travel to the Byreshawara School in Srinivaspur.
á
Spreading the Fa at Byreshawara School
Poster about Falun Gong on campus
Early in the morning of September 17, we woke up before the alarm clock sounded. Chitra's husband drove us to the main bus station in Bangalore and we took a bus from there to the town of Srinivaspur.
It took longer than when we had traveled on September 15. Chitra told me that there were 40 schools that we she was supposed to go to. I was surprised, and I admired how such a small woman could travel such long distances to so many places. It must not have been easy for her.
Before Chitra obtained the Fa, she suffered from back pain. She tried all kinds of doctors and medicines but none worked. After she started practicing Falun Gong, the pain just disappeared. She is very thankful for Teacher's mercy, and thus she wants more people know about Dafa. She believes that she is doing what she is supposed to. I was touched by her experiences.
Someone met us at the station in Srinivaspur. Shortly after, we arrived at Byreshawara School and we were led to the dean's office. The school has more than 2,000 students from grades 1 to 10. The dean of the school and a Falun Gong practitioner, Mr. Shrirama Reddy, was waiting for us in his office.
We had learned that several teachers in the school had started to practice Falun Gong and had felt the improvement in their bodies. They told the dean about it and he started to practice, and he also recommended it to other teachers. More teachers started to practice and they felt great. Some even used their physical education classes to teach Falun Gong.
High school students practicing Falun Gong
The dean asked a teacher to broadcast an announcement for the elementary school students who were ending their Falun Gong exercises. The school yard is not big enough so they have divided the students into three groups to practice at different times. Then the dean showed us the yard. Ms. Yu, a practitioner from Taiwan, along with Chitra, showed them a demonstratioin and explained the movements.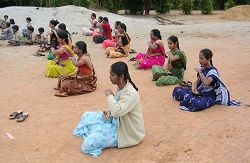 Teachers practiced Falun Gong (in the back rows)
The students followed Chitra's instructions and Ms. Yu's movements and some could do the movements very well. During the fifth exercise, some of them could do a perfect double-lotus for the sitting meditation, and some managed to do it but soon took their legs down because of the pain. They all looked very serene, especially the first graders, who looked so pure.
The dean said that this was the first time they had had group exercises at the school. During the exercises, the dean himself and several other teachers helped the students. Some teachers sat in the back rows and did the exercises.
Afterwards, we went in front of the middle school building. The dean announced through a loudspeaker that the students should watch the exercise demonstration, and he also demonstrated himself. It was a great scene because there were so many people there and it was crowded clear back to the mango trees.
It was easier to teach the older children, or perhaps it was because many students had already been taught by their teachers as many teachers there practice Falun Gong. We corrected the movements for some of the students. I regret that I didn't bring my camcorder because it was such a magnificent picture that would surprise many people.
Life in the School Is Simple and Self-sufficient
This school and another school nearby, Jyoti School, both have a dirt and sand floor. Students simply sit on the ground when they do the fifth exercise. There are no desks or chairs in the elementary school and they all sit on the ground. The classrooms are not very big and the students eat lunch sitting in the corridors and use their hands to eat. Their life is simple and natural.
During the break, I met with some of these lovely children and I took out some bookmarks to give to them. All the children wanted one and several hundred bookmarks reading "Falun Dafa Is Good" were gone in a short time.
We said goodbye to the dean and the students and promised to come back for a TV interview. A teacher drove us to the bus station and we continued on to our second stop in India.
There are More Than 30 Falun Gong Practitioners in the Small Town of Kolar
A teacher from the school, Akhila, who is also a relative of Chitra's, lives in the town of Kolar. We waited in Srinivaspur Station for around 30 minutes and then took a crowded bus to Kolar. Many parts of India are not a very rich, so the people there live a simple life.
An hour later, we arrived in Kolar and we took a bicycle-cart to Akhila's home. Everyone in her family practices Falun Gong. Chitra said that there are more than 30 practitioners in Kolar and they do group exercises every morning in a park. After a brief rest, we left Akhila's home. It was already evening.
Chitra's Daughter Is Learning to Read Lunyu in Chinese
Before we left for Taiwan on the evening of September 18, we used our time during the day to share our experiences with local practitioners. Afterwards, we returned to Chitra's home and prepared to leave.
Daksha is Chitra's daughter and she is a tall (5 ft. 7 in.) 14-year-old. She is an intelligent girl, a good student, and also practices Falun Gong. She was very interested in learning "Lunyu" in Chinese, so she asked us to read "Lunyu" in Chinese to her and she recorded it so she could learn it later. (Note: In India, practitioners usually read "Lunyu" in English.)
Good-bye
Indian practitioners with lotus flowers
Time flew by quickly and before we knew it, it was evening. Before dinner, we shared one more experience with Chitra and her husband. We encouraged Indian practitioners to study the Fa more and pay attention to the accuracy of their exercise movements. If necessary, they could contact practitioners in Taiwan or Malaysia through various types of media.
At last, we thanked Chitra's whole family for their hospitality and we left a "little bee" (to play the exercise music) with them so that Chitra could use it in spreading the Fa. After dinner we shook hands with everyone and bid them farewell. That concluded our trip spreading the Fa in Bangalore.