Maryland: Practitioners' Performances Draw Attention at the Annual "In the Street" Festival in Frederick (Photos)
October 08, 2007 | By Li Jingfei
(Cleawisdom.net) On October 6, 2007, the annual "In the Street" Festival was held in Frederick, Maryland. The Falun Gong group's procession, which won the first place award in the parade last year, was eye-catching again this year.



Colorful Falun Gong practitioners' procession is eye-catching in the "In the Street" parade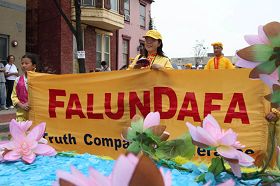 Colorful Falun Gong practitioners' procession is eye-catching in the "In the Street" parade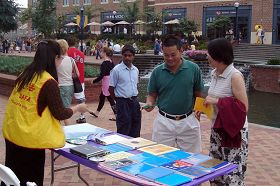 Practitioners held an information booth and displayed Zhuan Falun in different languages
On the float, the banner that read "Falun Dafa" was especially eye-catching. Practitioners of different races demonstrated the exercises. Young practitioners from the Minghui School wore traditional Chinese costumes and waved to greet the spectators. A waist-drum team of practitioners was next and their performance won warm applause. Karen, an organizer of the event, said that "In the Street" is one of the biggest local festivals. The festival has been held for 25 years and attracts 75,000 people each year from Frederick and nearby areas. The organizers of this year's event began inviting groups representing cultures of different countries six months ago. Besides parade groups, they also selected fifteen groups for booths and six groups for stage performance.
Falun Gong practitioners were selected for the parade, booth and stage performance. The Falun Dafa book Zhuan Falun in different languages was displayed on the table. The practitioners also demonstrated the exercises. Many visitors asked for truth-clarification literature. At noon, the peak time of visitors, practitioners were invited to perform on stage. They performed the exercise demonstration, lion dance, dragon dance, and waist drum.
Karen commented that practitioners' dragon dance team was very well-liked. She said that earlier that morning some people asked about the performance time of the dragon dance. A large photo of the dragon dance from last year was included in the advertisements for this year's event. The Frederick News-Post published the photo in its front page.
Dr. Huang Tsu-wei, coordinator of dragon dance team, said the performers in the team come from different professions, including US government employees, engineers, medical doctors, and students. Most were Chinese, but there were also a few westerners. They got to know each other when practicing Falun Gong. They introduce Chinese traditional culture with their after work hours to let people learn about Falun Gong and Falun Gong's principles of "Truth-Compassion-Forbearance."