Taiwan: The International "Truthfulness-Compassion-Forbearance" Fine Art Exhibition Opens in Yunghe City (Photos)
(Clearwisdom.net) On the morning of October 20, the"Truthfulness-Compassion-Forbearance" International Art Exhibit opened to the public at the Sun Yat-Sen Memorial in Yunghe City. The exhibit, which has visited more than 30 countries around the world, will remain in the city for 12 days. A number of elected officials including legislator Lin Te-fu, Taipei County Representative Chin Chieh-shou, and Yonghe Mayor Hung I-ping attended the opening ceremony.
Drum performance outside the exhibit venue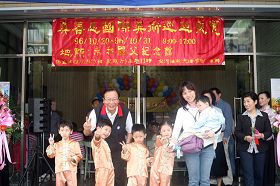 Legislator Lin Te-fu with young Falun Gong practitioners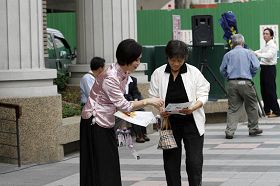 A practitioner distributed exhibit flyers to passersby
Before the opening ceremony, the New Tang Dynasty TV's Drum Troupe performed outside the memorial, attracting many people. The performance was followed by a presentation by several young Falun Dafa practitioners. When spectators learned that these children were Falun Dafa practitioners, they commented: "Falun Gong is so good. Why would the Chinese Communist Party persecute it?"
| | | |
| --- | --- | --- |
| Taipei County Representative Chin Chieh-shou | Legislator Lin Te-fu | Mayor Hung I-ping |
In his congratulatory speech, representative Chin Chieh-shou said: "China has a very poor human rights record. I once saw a photo display outside the Chinese Embassy in Ottawa. The display included many photos which revealed how the Chinese Communist Party (CCP) has tortured innocent Falun Gong practitioners." Mr. Chin urged the CCP to respect human rights and stop the persecution. "Falun Gong is a pure cultivation group and has no political agenda. Practitioners of Falun Gong should be respected and protected."
When asked about his impressions of the exhibit, Mr. Chin said: "This is the first time for me to attend an exhibit of this kind. The exhibit has deep meaning and I hope that I will have more opportunities to participate in this type of activity in the future."
Legislator Lin Te-fu said: "Falun Gong is everywhere in Taiwan. You can see practitioners in schools, track fields, and parks. This is a very peaceful group with no political agenda. However, it is being persecuted and slandered by the CCP in China. We should uphold justice for Falun Gong."
Mr. Hung I-ping, the mayor of Yonghe City, came to the exhibit right after attending another large-scale event. He said: "I know you Falun Gong practitioners are very capable. I truly respect you. I thank you all for holding this 'Truthfulness-Compassion-Forbearance' International Art Exhibit in Yonghe, as its implications are far-reaching." Mr Hung said that he knew Falun Gong was very good but he had been too busy to try the practice. He also suggested that Legislator Lin Te-fu promote Falun Gong in the Legislator Yuan (Taiwan Congress) so that Falun Gong could spread to all corners of Taiwan.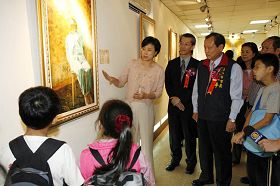 Yonghe Mayor Mr. Hung and other exhibit goers enjoy a painting while art teacher Ms. Zhou gives an introduction of the painting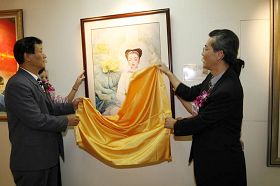 Taipei County Representative Mr. Chin unveils a painting at the opening ceremony
Viewers listen to art teacher Ms. Zhou introducing the paintings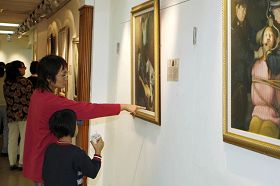 Mother and daughter
After learning about the exhibit from one of his friends, Mr. Cai brought his first-grader daughter to view the exhibit. He was amazed to learn that Falun Gong has spread to over 80 countries, with more than 100 million practitioners, in as little as 15 years. "This suggests that Falun Gong must be very good. The magnificence and purity portrayed by some of the paintings is truly admirable. Other paintings depicted the persecution in China, and I feel very sorry for the practitioners. The persecution is very brutal. I am not a practitioner of any practice, but I know that the practitioners are not interested in politics and they only want to do right and be healthy. The CCP has no reason to persecute Falun Gong practitioners, and its torture methods are inhumane."
Accompanied by her daughter, Ms. Huang viewed the painting. She commented, "It [the persecution] is so brutal. Practitioners only want to cultivate themselves and do no harm to anyone. Why would the CCP treat them so brutally?"
Mr. Zhou met some practitioners elsewhere in 2006 at a public event. He said, "I have seen Falun Gong practitioners' group practice several times, and I am always impressed by the serenity and magnificence at the site. It is ridiculous for the CCP to persecute Falun Gong. Facing such a group of peaceful and kind practitioners, the CCP should have nothing to fear and instead it should encourage the public to join. I truly respect the unyielding spirit these practitioners have demonstrated during this brutal persecution."