Indonesia: Art Exhibition Exposes CCP Brutality (Photos)
October 12, 2007 | By a practitioner from Indonesia
(Clearwisdom.net) On October 1, 2007, the Coalition to Investigate the Persecution of Falun Gong (CIPFG) and several organizations in Indonesia, including Majelis Ulama Indonesia (MUI), Community Information Centers (CICS), and two associations of historians, held an art exhibition. The theme was: "Review the Indonesian Communist Party's Violations of Human Rights and Democracy in Indonesia." Most of the art works were about the persecution of Falun Gong in China.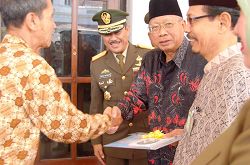 A general and a Muslim leader accept materials from practitioners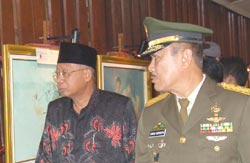 The general views the art works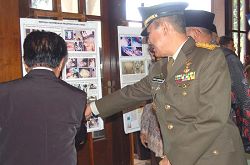 The general views the art works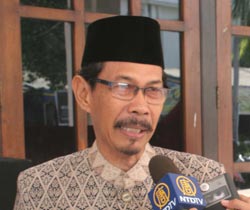 The organizer is interviewed
A general from the Indonesian military spoke at the opening of the exhibition. He emphasized that this activity would educate people so that the bloody history of communist rule would not be forgotten.
After the opening, the general and his wife viewed the art work.
The official from MUI pointed out that the purpose of the exhibition was to correct the public understanding of communism, noting that some recently published books have tried to deceive people about communism.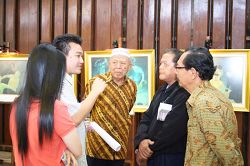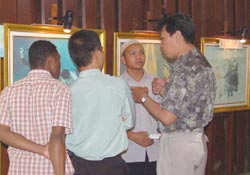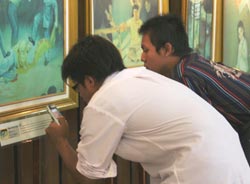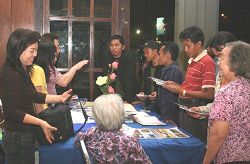 Many citizens and students came to the art exhibition. They were shocked by the brutality of the CCP and could not believe such a cruel persecution still exists in China.
A high school teacher, who had just come back from China, said, "What they showed us in China was all positive. We could not see the negative side of China." Another gentleman, who had just visited China, said that the CCP deceives people. Some students could not believe that a government would persecute its citizens like that. They said that the Chinese Communist Party is more evil than the Indonesian Communist Party.
Many people had never heard about the persecution of Falun Gong before. A military official expressed his support of the exhibition. He said, "This is a good thing. I support it. It helps people learn about the persecution in China."
The Chair of CICS said that communism is against human rights and democracy, and that its power is built on blood.
The organizers also showed some documentary films about the CCP, and held a high school speech competition about the brutality of the communist party.