Finland: People Denounce the Chinese Communist Party (CCP) When Its Atrocities Are Exposed (Photos)
January 27, 2007 | By a Finnish practitioner
(Clearwisdom.net) On January 20, 2007, volunteers of the service center for quitting the CCP, The Epoch Times, and Falun Gong practitioners gathered in Kouvola, a city in southeast Finland, despite the bitter coldof winter. In the pedestrian mall in the city center, they put up a banner about the "Nine Commentaries on Communist Party" in both Chinese and Finnish, and a banner informing people that 17 million Chinese have so far quit the CCP. They also set up some posters exposing the CCP's killing of innocent Chinese and its extremely cruel persecution of Falun Gong practitioners, who follow the principle of "Truthfulness-Compassion-Forbearance".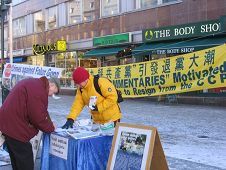 Supporting the seventeen million Chinese who quit the CCP and exposing the CCP's crimes against Falun Gong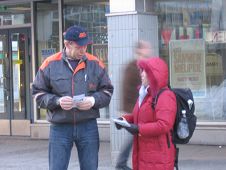 Learning the truth, the man tearfully signs against the persecution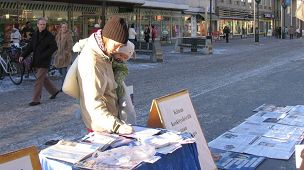 A mother with her baby in hand walks directly to the table to sign the petition
Volunteers and the Falun Gong practitioners distributed flyers describing the cruel persecution of practitioners during the past seven years, especially the CCP's atrocity of organ harvesting from living practitioners to gain huge profits. After reading the flyer and the banners and learning the truth, some people said, "Thank you, you've done a great job.", "What can I do to help you?" Many of them signed the petition to lend their support.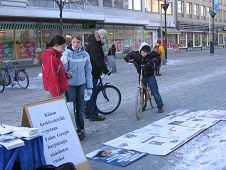 Finnish teenagers learn the truth about the persecution of Falun Gong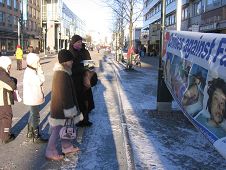 Children pay close attention
Wangfang, a practitioner living in Kouvola, learned recently that her mother in her hometown in northeastern China was arrested and her home was searched and property confiscated the day before. Although worried, she told herself to be strong, and she wanted to tell the Finnish people her mother's story. Her mother is a Falun Gong practitioner who tries to be a good person according to the principle "Truthfulness-Compassion-Forbearance." However, she was arrested with no legal procedures after being held in a labor camp for one year. Such things are happening to practitioners in China every day. The only way to stop it is to expose it. She gave a flyer to an elderly man and told him her story. He urged her to write out her mother's story and let the people, the Finnish Congress, the media, the police, and the international community know what is happening in China now. One Finnish lady's offer of financial support was politely declined. Several young students said that they could not understand why the police in China would arrest innocent people. Isn't it so true that the police arrest only the bad?