Practitioners Persecuted by the CCP in Wuwei City, Gansu Province (Photos)
(Clearwisdom.net) From October to December 2006, officers of the Wuwei City Public Security System and the Liangzhou District Government in Wuwei City executed a policy of persecution against Falun Dafa practitioners, and launched a new cycle of persecution.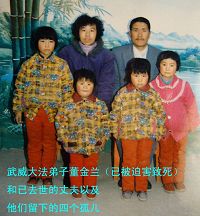 The family of Ms. Dong Jinlan (Dong Jinlan was persecuted to death), her past husband and their 4 orphans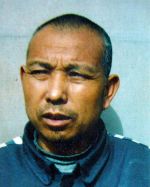 Liu Yongchun persecuted to death at Jiuquan Prison
They checked everybody who practiced Falun Gong citywide, requiring them to state their positions in written and signed statements. Those on the black list were monitored day and night, and thugs were recruited to lie in wait and arrest practitioners. They interrogated those who visited Dafa disciples' homes whether they practiced Falun Gong or not, and abducting those they suspected. They abducted Ms. Han Xiuzhen, Ms. Yang Xiulian, Ms. Ma Yulan, Guo Yuliang and others.
In recent years, Chinese Communist Party (CCP) agents in Wuwei City have cooperated with the 610 Office and cruelly persecuted Dafa disciples. Ms. Huang Xinjin, Ms. Dong Jinlan, and Mr. Wei Xinhua were persecuted to death, as were Mr. Song Yanzhao, Ms. Liu Lanxiang, and Mr. Liu Yongchun, whose cases have already been reported on Clearwisdom.net. Four truth clarification material production sites were destroyed, more than one million yuan was looted, thirty Dafa disciples were illegally sentenced to prison and another thirty-seven people to forced labor camps, and more than 200 Dafa disciples were illegally detained. Countless stereos, TVs, washing machines and other electronic devices were confiscated from their homes, even food and seeds were stolen, as was all the cash.
The National Security Team, lead by the infamous Chen Fenggang, is the most evil, they went so far as to burn the practitioners' exercise mats. For his role Chen Fenggang was promoted to Vice Chief of the Public Security Department.
The people responsible:
Zhang Xusheng, City Party Committee Secretary
Ma Chi, Political and Judiciary Committee Secretary
Jia Hong, Political and Judiciary Committee Assistant Secretary
Gao Jun, Political and Judiciary Committee Assistant Secretary
Chen Qing, City Party Committee Assistant Secretary and City Discipline Committee Secretary
Su Zhenxiang, City Party Committee Assistant Secretary and Liangzhou District Party Committee Secretary
Jiao Tiancheng, Vice Mayor, City Party Committee Assistant Secretary and City Anti-drug Committee Director
Sun Zhongxin, City Party Committee Assistant Secretary
Shi Shangtang, Municipal Party Committee Member and Wuwei City Propaganda Bureau Head
Guo Chenglu, Municipal Party Committee Member Municipal CCP Committee Secretary
Li Xuechun, Municipal Party Committee Member and Changchun City Organizational Bureau Head
Li Yundong, Wuwei City Public Security Bureau Head and Party Branch Office Head
Cai Duoxue, Wuwei City Public Security Bureau Deputy Head
Liu Changli, Wuwei City Public Security Bureau Deputy Head
Chen Fenggang, Wuwei City Public Security Bureau Deputy Head (A key person in the persecution of Falun Gong)
Wu Cheng, Liangzhou Branch Wuwei City Public Security Bureau Police Chief
Zhang Qihai, Deputy Political Commissar
Liangzhou District Government:

Zhang Xiaolin, District Chief
Wang Zhi'an, Zhu Xinghai, Chen Riqing, Wang Xiaoling, Xu Jianlin, Shao Xin'ge, District Vice Chiefs
Li Shiying, Secretary
Zhang Xiaolin and Shen Tianlin, Vice Secretaries
Li Shiying, Zhang Xiaolin, Shen Tianlin, Wang Zhian, Zhu Xinghai, Xia Wenbin, Chen Riqing, Zhao Baozheng, Li Junxing, Li Peicai, Xu Fude and Wang Xiuli, Party Committee Members