Ms. Chen Suxiang Beaten to Death Within One Day of Being Detained (Photos)
(Clearwisdom.net) On September 12, 2006, Falun Dafa practitioner Ms. Chen Suxiang from Tangshan City was arrested by Qianquzhuang Dadui (a village neighborhood) Security Chairman Li Zhiqiang. She was brutally beaten by a group of guards, resulting in her being severely injured. She was transferred to the Kaiping Police Station on September 13, 2006, and died on the same day.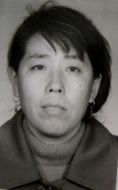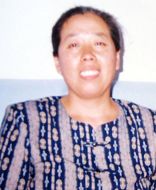 Falun Dafa practitioner Ms. Chen Suxiang
Ms. Chen Suxiang, 50, lived in Dongyaoxia Village, Kaiping District, Tangshan City. After learning Falun Dafa, she became very healthy, and was a good person who was well respected by the people in her village. In order to help more people see the truth about the Chinese Communist Party (CCP), and to tell them that Falun Dafa is good, she passed out truth clarifying materials in the Qianquzhuang Neighborhood at around noon on September 12, 2006. She was detained by the Qianquzhuang Security Chairman Li Zhiqiang in his apartment building on the fourth floor, second door, building 102.
Li Zhiqiang took Ms. Chen Suxiang to the Qianquzhuang Village CCP Committee office and beat Ms. Chen brutally together with guard Li Jianjun (male). They punched and kicked her in the lower back, head, legs, and caused her to have a large area of bruises on her body. They struck her severely, resulting in her collapsing on the floor. The Village Women's Association workers Liu Xiaohua (female) and Guo (female, first name unknown) witnessed the beating.
| | |
| --- | --- |
| Qianquzhuang Village CCP Committee Office | Kaiping District Police Station |
On the morning of September 13, 2006, Ms. Chen Suxiang was arrested and taken to the Kaiping Police Station. Her mother and husband went to the station to request her release. They saw that Ms. Chen Suxiang wore handcuffs and ankle shackles, and was mentally traumatized. She told her family how she was being brutally beaten. Her mother saw the injuries on her lower back and behind her ears. Her eyes were bruised and swollen, and there were bruises on her legs.
At around 3:00 p.m., on September 13, 2006, Ms. Chen said she needed to use the toilet. She started swaying when she walked, and had to be helped by two female police officers to reach the toilet. They waited a long time, and Ms. Chen never walked out. They entered the bathroom and found that she had passed out. By the time they sent her to Jingezhuang Mine Hospital, she had already died.
Ms. Chen Suxiang was tortured to death in 27 hours. We hope that people will pay attention to this case and bring the murderers to justice.
Qianquzhuang Village: 86-315-3271268
Qianquzhuang Village CCP Committee: 86-315-3283464
Social Safety Chairman Li Jianjun: 86-13931561486 (Cell), 86-315-3261564( Home), 86-315-3261574 (Home), 86-315-8996154 (Xiaolingtong Cell)
Security Chairman Li Zhiqiang: 86-13931564310 (Cell)
Village head and CCP secretary Li Jingchen (male), deputy secretary Duan Xianglan (female).
Kaiping Police Station: 86-315-3363740
Kaiping District 610 Office head Yang Jinshan (male): 86-315-3364567 (Office), 86-315-3368215 (Home), 86-13903388202 (Cell)
Kaiping District 610 Office deputy head Wu Lide (male): 86-315-3377610 (Office), 86-315-3368226 (Home), 86-13131547559 (Cell)
Kaiping District Police Department head Xiang Zhongyuan (male, later transferred to work in the Detention Center): 86-315-3363133 (Office), 86-315-8165115 (Home)
Deputy CCP Secretary Liu Damin (male): 86-315-3365533, 86-315-2235533
Deputy head (also 610 Office member) Li Guojun (male): 86-315-3363475 (Office), 86-315-2236388 (Home)
Deputy head (also 610 Office member) Zhang Hongxue (male): 86-315-3361625 (Office), 86-315-2848309 (Home)
Deputy head (also 610 Office member) Tian Dalin (male): 86-315-3388058 (Office), 86-315-2552888 (Home)
Deputy head (also 610 Office member) Liu Weixing (male): 86-315-3361425 (Office), 86-315-2237997 (Home)
Deputy head (also 610 Office member) Lu Jiansheng (male): 86-315-3363834 (Office), 86-315-2241610 (Home)