Sweden: Falun Gong Practitioners Protest Bo Xilai on Royal Plaza (Photos)
September 18, 2006 | By a practitioner in Sweden
(Clearwisdom.net) After hearing about Chinese Commerce Minister Bo Xilai's visit to Sweden, Falun Gong practitioners held a press conference in a park on September 14 to inform the media, local government and royal family that Bo Xilai has committed crimes of murder and torture when he was mayor of Dalian and governor of Liaoning Province in the persecution of Falun Gong. On the morning of September 15, practitioners conducted a protest on the Royal Plaza while submitting a list of charges against Bo to the Swedish police.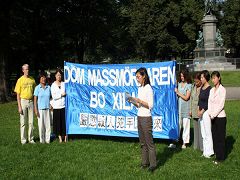 Protesting venue
Exposing Bo Xilai's crimes
Swedish national TV station SVT interviews practitioners
Exposing the CCP's live organ harvesting against practitioners
Royal Plaza is a location for diplomatic activity and the royal guard change. Nobody has obtained a permit to hold a protest there. After practitioners explained the persecution in China to the royal guards, they were permitted to go forward with their protest.
The practitioners' banners said, "Bring Bo Xilai to Justice" in Swedish and Chinese, and "Heaven will destroy the CCP" in Chinese.
When Bo Xilai's motorcade passed by, the practitioners spoke loudly to them, "Stop persecuting Falun Gong!"
Later, practitioners handed over a copy of the list of charges against Bo to the Minister of Sweden's Ministry of Commerce and Royal Office. Swedish media, including SVT, interviewed the practitioners.
After the protest on Royal Plaza, the practitioners held a re-enactment to expose the CCP's crime of live organ removal on a busy square, Mynttorget, where many tourists visit. We also distributed the Nine Commentaries and related flyers. The CCP's crime of live organ removal is beyond people's imagination, and kind-hearted people could hardly believe it. After talking with us, some people helped to distribute the flyers.
Many people came to ask how to help those practitioners being persecuted in China. The practitioners distributing flyers said, "We are exposing the CCP's crimes to the whole world. Help us to expose the CCP's crimes to your colleagues and friends. Ask them to sign the petition online." Many people expressed their support and wished us luck.
Many Chinese tourists took flyers exposing the CCP's crime of live organ removal and copies of the Nine Commentaries.